Nepal in the Mahabharata Period, Part 46
BY: SUN STAFF - 27.12 2018
Mahendradevana and Kamalaprabha
Newari Mahabharata, 14th-15th c.
Philadelphia Museum of Art
The Yadava dynasty's presence in Nepal, and the events that preceded and followed.
Mahabharata in Nepal
Our series on Nepal in the Mahabharata Period wouldn't be complete without a look at the range of Mahabharata manuscripts that have been produced in Nepal. The styles of imagery painted in Nepal for Mahabharata illustrations are as varied as the religious practices of the people. Some are distinctively Buddhist in iconography, while others are done in North and South Indian style.
The images shown here from a Newari Mahabharata were produced during the Malla Period, late 14th to early 15th Century. The style is strongly Buddhist. The watercolor image depicts two demon-warriors and an enthroned Mahendradevana (Lord Vishnu) with His consort, Kamalaprabha (Lakshmi Devi).

Bhimasen
Newari Mahabharata, 14th-15th c.
Philadelphia Museum of Art
On the verso of this double-sided manuscript page, Bhima Pandava, best known as Bhimasen in Nepal, is fighting an enemy (right), and there are two demons in the forest (left). The garments with red, white, and blue stripes are typical of Malla paintings from the period, and the floating flowers and exotic trees are also Malla motifs.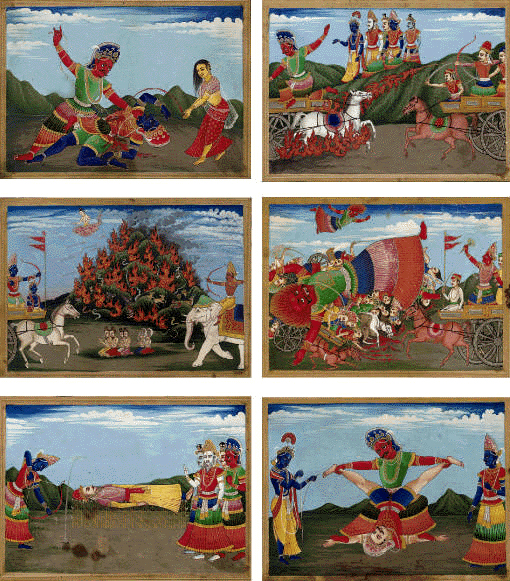 The next example is a group of six illustrations to Mahabharata, produced in Nepal in the 19th Century. The paintings depict a variety of scenes from the epic, including a duel between Arjuna and Karna; a battle scene with Bhima; the duel between Bhima and Dushasana after Draupadi was dishonored; the death of Ghatotkacha; Arjuna providing water to the dying Bishma; and Bhima splitting Jarasandha apart.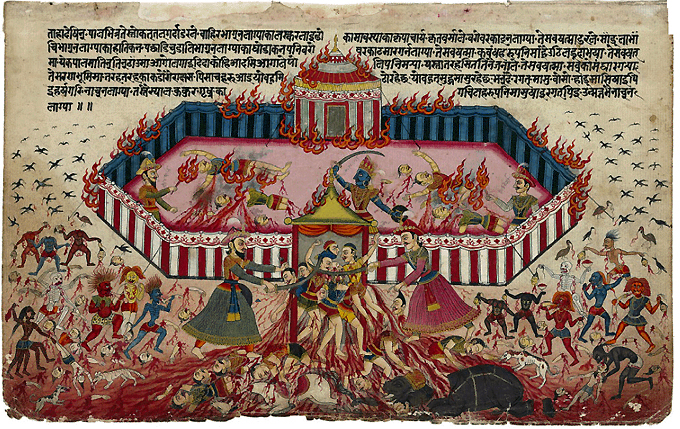 The Pandavas setting fire to their enemies
In the image above, a Nepali illustration to Mahabharata circa 1800, we see a battle scene in which the Pandavas have set fire to an enemy palace and surrounding compound. The gruesome scene features a host of slain warriors, horses and elephant, and a battalion of demons engaged in bloodsport with the dead. Painted in the style of North India, the depiction of carnage is reminiscent of Kali worship paintings. While the flames are Buddhist motif, the Sanskrit inscription is Indian (Pali), not Buddhist script.
We'll conclude this series with a few segments on a version of the Mahabharata that was not only illustrated in Nepal, but was written as a tribal Nepali version of the epic.