Mahamantra controversy: Hare Krishna or Hare Rama first ?
By editor - 31.5 2023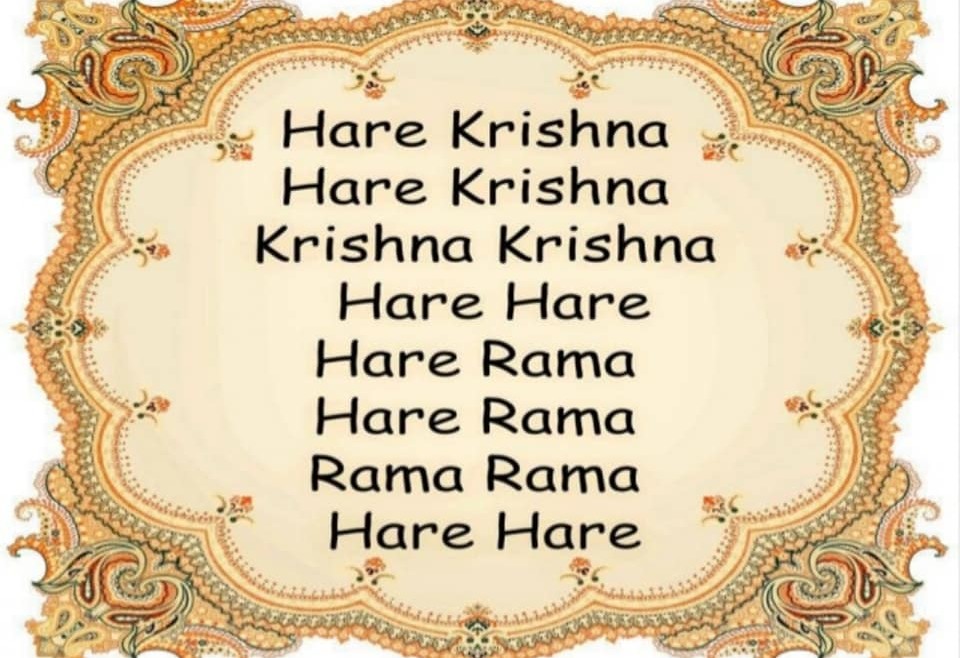 Many people from other sampradayas raise concern over the order of usage of word Krishna and Rama in the Hare Krishna Mahamantra based on an advaitin edition of Kali Santarana Upanishad in the middle of 17th century forgetting that Hare Krishna Mahamantra which is a vedic mantra was made popular in the 15th Century itself and is preserved via the guru parampara . It is a vedic mantra and not something created by Iskcon . Iskcon has just taken the responsibility to spread Its glory throughout the world and doing so successfully . The interpolation was done in the later centuries which in this case is the 17th century advaitin edition of Kali Santarana Upanishad and supported by many others of different sampradaya out of enviousness for Gaudiya Vaishnavas which is unfortunate but true. The world is evident of communal disharmony . But one should not forget that one cannot come close to God by being envious of others.
Objection 1:
The Hare Krishna mantra has an interesting history that, unfortunately,
almost no follower of the Hare Krishna movement knows about, and that
almost no leader of that movement will openly acknowledge. Like the
Narayana mantra, the mantra known as the "Hare Krishna" mantra is a
revealed Vedic mantra. However, the actual mantra is not quite the "Hare
Krishna" mantra that has become popular in recent decades. The earliest
extant mention of it is found in the Kali Santarana Upanishad. The exact
Sanskrit verse is this:
naradah punah papraccha tannama kimiti |
sa hovaca hiranyagarbhah |
hare rama hare rama rama rama hare hare |
hare krsna hare krsna krsna krsna hare hare |
iti sodasakam namnam kalikalmasanasanam |
natah parataropayah sarvavedesu drsyate |
iti sodasakalavrtasya jivasyavaranavinasanam |
tatah prakasate param brahma meghapaye ravirasmimandaliveti |
The actual mantra in the Kali Santarana Upanishad is thus actually:
hare rama hare rama rama rama hare hare
hare krsna hare krsna krsna krsna hare hare
Thus, to this very day, orthodox Hindu brahmanas, panditas and Sanskrit
experts recite the mantra in this correct fashion.
Refutation:
The Kali-Santarana Upanisad is a genuine Upanishad:
The Kali-santarana Upanisad is one of the 108 Upanisads listed in the Muktika Upanisad,verses 26-29. Yet in some academic circles, scholars are of the opinion that the Kali-santarana Upanisad was written either by Sri Caitanya Mahaprabhu or one of His followers. Such scholars have no evidence for their claim other than their own opinion and that is generally not accepted amongst learned circles in India. Such claim is not approved by sastra.
Oldest (surviving) copy is an advaitin edition.
One enigma surrounding the maha-mantra is whether it begins with 'Hare Krsna' or 'Hare Rama'. In the oldest surviving copy of the Kali-santarana Upanisad, dated circa 1740 CE with the commentary by the Advaitin scholar Brahmayogin Ramacandrendra Sarasvati of Kanchipuram, the maha-mantra is written as:
hare rama hare rama rama rama hare hare
hare krsna hare krsna krsna krsna hare hare
The 1740 edition of the Kali-santarana Upanisad quoted above was interpolated by Mayavadis. Since the Name of Krsna is superior to the Name of Rama, as stated by Srila Sridhara Maharaja, it stands to reason that the Vedas would present the sequence of the mantra ontologically, thus the Advaitin edition is suspect.
In many editions of Kali-santarana Upanisad , Mahamantra begins with Hare Krishna
However, in numerous other editions of the Kali-santarana Upanisad the maha-mantra is written:
hare krsna hare krsna krsna krsna hare hare
hare rama hare rama rama rama hare hare
So it is improper to justify the order of Mahamantra based on an advaitin edition of 17th century when the correct order was popular and recited by lakhs of devotees in the 15th century which already has written evidence as will be presented below.
hare krsna hare krsna krsna krsna hare hare
hare rama hare rama rama rama hare hare
Hare Krishna Mahamantra's correct order is defined in Sanat Kumar Samhita
hare-krsnau dvir avrttau
krsna tadrk tatha hare
hare rama tatha rama
tatha tadrg ghare manuh
hare krsna hare krsna
krsna krsna hare hare
hare rama hare rama
rama rama hare hare
Meaning:
The words 'Hare Krsna' are to be repeated twice, then 'Krsna' and 'Hare' are to be repeated separately twice. Similarly, 'Hare Rama', 'Rama' and 'Hare' are also repeated twice. The mantra will thus be – Hare Krsna Hare Krsna Krsna Krsna Hare Hare, Hare Rama Hare Rama Rama Rama Hare Hare.
(Sanat-kumara Samhita, as quoted by Dhyanacandra Gosvami in his Gaura Govindarcana Smarana Paddhati, verses, 132-133)
References to Hare Krishna Mahamantra in Sri Brahma Yamala.
Lord Siva specifically instructs that chanting the Hare Krishna Maha Mantra is the best process for spiritual realization:
harim bina nasti kijcat papani-starakam kalau | tasmal-lokod-dharana-artham hari-nama prakasayet ||
sarvatra mucyate loko maha-papat kalau yuge | hare-krsna-pada-dvandvam krsneti ca pada-dvayam ||
tatha hare-pada-dvandvam hare-rama iti dvayam | tad-ante ca maha-devi rama rama dvayam vadet ||
hare hare tato bruyad harinama samud dharet | maha-mantram ca krsnasya sarvapapa pranasakamiti ||
Lord Siva says to his wife Parvati-devi: "O Mahadevi! Look! In Kali-yuga there is no easier way to eradicate sins than by the holy names of Lord Krsna. It is therefore essential to propagate the chanting of the Hare Krsna maha-mantra among the general populous. The people in Kali-yuga can be easily liberated from the greatest hell by performing sankirtana of this Hare Krsna maha-mantra. To chant the maha-mantra, first chant hare krsna twice, then chant krsna twice, then hare twice. After that, chant hare rama twice, then rama twice and again hare twice. Thus the maha-mantra: Hare Krishna Hare Krishna Krishna Krishna Hare Hare, Hare Rama Rama Rama Rama Rama Hare Hare. One should chant, articulate and perform sankirtana etc., of this Hare Krsna maha-mantra, which destroys all sins."
References from Sri Ananta–samhita
hare krsna hare krsna krsna krsna hare hare | hare rama hare rama rama rama hare hare ||
sodasaitani namani dvatrimsad varnakani hi | kalau yuge maha-mantrah sammato jivatarane ||
varjayitva tu namaitad durjanaih parikalpitam | chandobaddham susiddhanta viruddham nabhyaset padam ||
tarakam brahma-namaitad brahmana gurunadina | kalisantaranadyasu sruti-svadhigatam hareh ||
praptam sri brahma-sisyena sri naradena dhimata | namaitad-uttamam srauta-paramparyena brahmanah ||
utsrjyaitan-maha-mantram ye tvanyat kalpitam padam | mahanameti gayanti te sastra-guru langhanah ||
tattva-virodha-sanprktam tadrsam daurjanam matam | sravatha pariharyam syadatma-hitarthina sada ||
hare krsna hare krsna krsna krsna hare hare | hare rama hare rama rama rama hare hare ||
"'Hare Krsna Hare Krsna Krsna Krsna Hare Hare Hare Rama Hare Rama Rama Rama Hare Hare' – This sixteen-name, thirty-two syllable mantra is the maha-mantra in Kali-yuga by which all living beings can be delivered. One should never abandon chanting this maha-mantra and take to other so-called purificatory processes which are practiced by rascals, or engage in chanting other metrical compositions of the name of Krishna that are against the pure conclusions of the scriptures, or are filled with rasaabhaas. About this divinely spiritual maha-mantra, which delivers one from material existence, the original guru, Lord Brahma, has said, kali-santararadi sruti, "The srutis have declared this mantra to be the best means of deliverance in the age of Kali". Having all heard this from Brahma, the sons and disciples of Brahma, beginning with Narada, all accepted the Hare Krishna maha-mantra and, having meditated on it, attained perfection.
References from Brahmanda Purana
Radha Hrdya Khanda, Romaharsana Suta prays to Sri Vedavyasa as follows:
yat tvaya kirtitam natha hari-nameti sanjitam | mantram brahma-padam siddhi karam-tad-vad-no-vibho ||
"O master, O mighty one! Please glorify the Hari-nama mantra situated in transcendence, the cause of all perfection!"
grhanad yasya mantrasya dehi brahma-mayo bhavet |
sadhyah putah surapo 'pi sarva-siddhi-yuto bhavet | tad-aham te 'bhidhasyami maha-bhagavato hamsi ||
hare krsna hare krsna krsna krsna hare hare | hare rama hare rama rama rama hare hare ||
iti sodasakam namnam tri-kala kalmasapaham | natah parataropayah sarva vedesu vidhyate ||
Sri Vedavyasa said to Romaharsana Suta "O my son the embodied soul who takes up the maha-mantra will become filled with transcendence, and by accepting it, even a drunkard will attain all perfections. I will recite this mantra to you, for you are a swan-like maha-bhagavata and a suitable candidate. Just see! The sixteen word maha-mantra, 'Hare Krsna Hare Krsna Krsna Krsna Hare Hare Hare Rama Hare Rama Rama Rama Hare Hare', can destroy the sins of the three worlds. The Vedas do not mention a method for achieving liberation from material bondage superior to the chanting of this maha-mantra.
References from Sri Radha Tantra
srnu matarmahamaye visva-bija-svarupini | hari namno mahamaye kramaG vad suresvari ||
"Hear me, O mother Mahamaya, seed of the universe personified, mistress of the gods! Please explain the sequence of Hari-nama."
hare krsna hare krsna krsna krsna hare hare | hare rama hare rama rama rama hare hare ||
dvatrim sadaksaranyeva kalau namani sarvadam | etanmantram suta srestha prathamam srnuyannarah ||
Tripura-devi said: "O best among sons! The maha-mantra for Kali-yuga bestows all perfection. This maha-mantra, is composed of sixteen names and thirty-two syllables: 'Hare Krsna Hare Krsna Krsna Krsna Hare Hare Hare Rama Hare Rama Rama Rama Hare Hare'. Therefore, a person who desires his own welfare should first hear this Hare Krsna maha-mantra from a bonafide spiritual master."
References from Vayu Puran.
The Supreme Lord Sri Krsna says to Lord Brahma:
tatha catra bhavisyami bhaktyanugraha-kamyaya |
sahasraso'vatara me gita brahman yuge yuge | bana-margair veda-margai ripunam tatra sanksayam ||
bhaktanam taranam krtva khyapitam sva-yasah ksitau | kalau nasta-drsam esa mat-padyarka udesyat ||
hare krsna hare krsna krsna krsna hare hare | hare rama hare rama rama rama hare hare ||
sakrd dvis trir yatha-sakti yavaj jivam athapi va | vyaharan svapaco'pi syan mama bhakto na samsayah ||
"O Brahma, yuga after yuga I kindly appear in many thousands of incarnations." "Walking either on the path of arrows or the path of the Vedas, I deliver the devotees, destroy their enemies, and place My glory on the earth." "For they who have become blinded by Kali-yuga, a mantra with My holy names will rise like a glorious sun. This verse is: Hare Krsna Hare Krsna Krsna Krsna Hare Hare Hare Rama Hare Rama Rama Rama Hare Hare." "One should chant this mantra once, twice, thrice, as many times as one is able, or again and again for as long as one lives. By chanting this maha-mantra even a dog eater may become My devotee."
It is natural that many people in other sampradayas will consider these references as interpolations . We can also say the same in case of them . We have the references intact from our acharyas who were true vairagis and need no interpolation to prove themselves . The whole world is a witness to their scholarship.
There are instances where Srila Jiva Goswami in his sandarbhas has referred to the scriptural quotes presented by Sri Madhavacharya without actually verifying them . Srila Madhavacharya is our sampradaya acharya . Sri Jiva had faith in the scholarship of Madhavacharya . Similarly our faith in the words of our sampradaya acharyas is intact.
Nowadays many references are lost in time and the world knows very well that only a few percent of the entire vedic texts exists today . So there is no point arguing with sastric references the acharyas provided 500 years ago . Some might be lost in time but the knowledge is preserved in their books and available to us. This is the importance of knowledge transferred through guru parampara . This is the importance of being connected through a bonafide sampradaya.
It is similar for other bonafide sampradayas . All the scriptural knowledge needed for the specific process practiced in their sampradaya are kept intact by their sampradaya acharyas. So there is no point we raise concerns that why are you following other process then chanting the holy Name of Lord is the only way in kaliyuga ? Every sampradaya has some scriptural references to prove their point . SO WHY ARE WE FIGHTING ? Why don't everyone oil their own machine.
Objection 2:
Interestingly, the mantra was recited in the above, correct, manner even
in the Gaudiya Vaishnava sampradaya during the first two to three
centuries of its history. Where this specifically changed within the
Gaudiya Vaishnava sampradaya was in the early 18th Century with Sri
Baladeva Vidyabhusana.
According to the traditional court records, the history is this: The
Gaudiyas residing in the Mathura/Vrindavana area at that time were known
for being very egalitarian and open about offering mantra diksha to any
sincere soul, regardless of their previous caste designation. This is, of
course, in keeping with true Vaishnavism and bhakti-yoga.
However, after several decades of disagreements between the Gaudiyas and
certain important Mathura-based caste brahmanas, the local raja was
approached with the brahmanas' complaints. Their specific complaint was
that the Gaudiyas were initiating shudras, etc. with Vedic mantras, which
they felt was not acceptable. The raja threatened to disfavor the Gaudiya
movement if they did not cease in offering Vedic mantras to non-twiceborn
devotees.
After some serious deliberation, the Gaudiya leaders of the
Mathura/Vrindavana community offered the compromise of switching the
mantra – thus saying the Hare Krishna portion first, followed by the Hare
Rama – rather than initiating people into the actual Vedic mantra. In
this way, they were not initiating people in a Vedic mantra, would
satisfied the caste brahmana complainants. Thus was born the "Hare
Krishna" mantra as: " hare krsna hare krsna krsna krsna hare hare / hare
rama hare rama rama rama hare hare.
In actuality, there is not a "Hare Krishna" mantra found in any Vedic
scripture and never has been; and no such mantra even existed previous to
the 18th Century. Rather, what we always had both historically and in the
Vedic canon was what we could term the "Hare Rama" mantra:
hare rama hare rama rama rama hare hare
hare krsna hare krsna krsna krsna hare hare
Refutation:
Hare Krishna Mahamantra is not an initiation mantra so there is no point of disagreement
The objection is a work of fiction and bear no resemblance to the history of Gaudiya Vaishnavas. It is true that many orthodox brahmins never consider the low caste to be worthy of initiation and it is a different topic . But the objection is totally misplaced in the sense that the Hare Krishna Mahamantra is not the initiation mantra as misunderstood by many . The diksha mantras are the vedic mantras and is strictly confidential . Two of the diksha mantras which are received via parampara at the time of initiation are known as Gopal Mantra and Kaam Gayatri . So the above objection is baseless.
Hare Krishna Mahamantra was sung during the time of Mahaprabhu in 15th century
Next that the Hare Krishna mantra was used during the time of Sriman Chaitanya Mahaprabhu in the 15th century is documented by associates of Sriman Chaitanya Mahaprabhu. We are are presenting one of the written document of Sri Jiva Goswami , an associate of Mahaprabhu and one of the 6 Goswamis of Vrindavana of 15th century .
Thus it refutes the claim that Hare Krishna mahamantra was interpolated by later Gaudiya vaishnavas in the 18th century. From this it becomes evident that the advaitin edition in the 17th century is an interpolation. The actual order is restored via the guru parampara and other editions. So there is no point arguing over it.
Now coming back to the written document by associate of Mahaprabhu.
Commenting on the maha-mantra in his Maha-mantrartha Dipika, Sri Jiva Gosvami reveals the meaning of each of the sixteen Names in the maha-mantra in consecutive order as follows:
hare krsna hare krsna krsna krsna hare hare
hare rama hare rama rama rama hare hare
(1-Hare)
sarva-ceta-harah krsnas tasya cittam haratyasau
vaidagdhi-sara-vistarair ato radha hara mata
Krsna steals the minds of everyone, yet Radha steals even His mind by Her divine expertise. Thus She is known as Hara.
(2-Krsna)
karsati sviyalavanya-murali-kala-nihsvanaih
sri radham mohana-gunalankrtah krsna iryate
He forcibly attracts Sri Radha with the sweet sound of His flute, therefore that Lord of all enchanting qualities is known as Krsna.
(3-Hare)
sruyate niyate rase harina harineksana
ekakini rahah-kunje hareyam tena kathyate
It has been heard that during the rasa-lila, doe-eyed Radha was stolen away by Krsna to be alone with Him in a secret forest bower. She is therefore known as Hara.
(4-Krsna)
anga-syamalima-stomaih syamalikrta-kancanah
ramate radhaya sardham krsno nigadyate
When Krsna sports with Radha, Her golden hue takes on the dark complexion of Krsna's skin. He is thus known as Krsna.
(5-Krsna)
krtvaranye sarah-srestham kantayanumatas-taya
akrsya sarva-tirthani taj-jnanat krsna iryate
In order to please Sri Radha, Krsna manifested the most wonderful lake (Syama-kunda) in Vrndavana. He then called all the holy rivers to fill it. He is thus known as Krsna.
(6-Krsna)
krsyate radhaya premna yamuna-tata-kananam
lilaya lalitas-capi dhiraih krsna udahrtah
By Her unsurpassed love, Radha charms He who performs wonderful lilas on the banks of the Yamuna. Therefore, those who are sober know Him as Krsna.
(7-Hare)
hrtavan gokule tisthann-aristam pusta-pungavam
sri haris tam rasad uccai rayatiti hara mata
While in Gokula, Sri Hari (Krsna) killed the demon known as Aristasura. During that time, Radha cried out to Him with great feeling and by doing so, She stole His mind. She is thus known as Hara.
(8-Hare)
hyasphutam rayati priti-bharena hari-cestam
gayatiti mata dhirair hara rasa-vicaksanaih
Filled with ecstatic love, Radha sometimes sings the glories of Hari's exploits quietly, and sometimes She sings them aloud. Those who are expert in the secrets of divine sentiments call Her Hara.
(9-Hare)
rasavesa-parisrastam jahara muralim hareh
hareti kirtita devi vipine keli-lampata
Due to the intense love of Sri Radha, Sri Hari becomes so captivated that His flute falls from His hand. With the desire to enjoy in the forest bowers with Krsna, Radha steals His flute. That goddess is thus famous as Hara.
(10-Rama)
govardhana-dari-kunje parirambha-vicaksanah
sri radham ramayamasa ramastena mato harih
Krsna, who is expert at embracing, sports with Radha in the forest groves or in the caves of Govardhana. Thus He is known as Rama.
(11-Hare)
hanti duhkhani bhaktanam rati saukhyani canvaham
hara devi nigadita maha-karunya-salini
That most merciful Radha destroys the miseries of Her devotees and gives them great happiness every day. Therefore that goddess is known as Hara.
(12-Rama)
ramate bhajato cetah paramananda-varidhau
atreti kathito ramah syamasundara-vigrahah
The minds of the devotees are continuously drowned in an ocean of supreme joy by seeing the beautiful dark form of Krsna. Therefore He is known by
the Name Rama.
(13-Rama)
ramayaty-acyutam premna nikunja-vana-mandire
rama nigadita radha ramo yutas taya punah
Radharani is known as Rama because She enjoys loving pastimes with Acyuta (Krsna) in a secret forest pavilion. Since He is always by Her side, He is known as Rama.
(14-Rama)
rodanair gokule davanalam asayati hyasau
visosayati tenokto ramo bhakta-sukhavahah
When the residents of Gokula were crying due to fear of the forest fire, Krsna immediately swallowed it and gave His devotees great joy. In this way, He is known as Rama.
(15-Hare)
nihantum asuran yato mathura-puram ity-asau
tadagamad-rahah-kamo yasyah sa'sau hareti ca
Sri Krsna went to Mathurapuri in order to destroy the demons. However, due to being captivated by the love of Radha, He later returned. Therefore She is known as Hara.
(16-Hare)
agatya duhkha-harta yo sarvesam vraja-vasinam
sri radha-hari-carito harih sri nandanandanah
When the son of Maharaja Nanda returned to Vraja, He took away the suffering of all the Vrajavasis. By His wonderful exploits, He steals the heart of Sri Radha. Thus He is known as Hari.
Objection 3:
And it is known that the Hare Krsna mantra is recited without proper procedure, withoutdhyana, sankalpa, etc., in the approved Vedic fashion. It has been arbitrarily picked out of a book and practiced in mutilated form, and is thus a false initiation (as the originators of the tradition were themselves unqualified to recite the mantra). Worst of all, it is recited 'as' Krsna Himself, and not as a symbol or tool for his worship…as such, it stands to reason that the 'Hare Krsna maha-mantra' is best avoided by everybody.
Refutation:
The most obvious mistake in the above quote is that the Kali-santarana Upanisad clearly states'nasya vidhiriti' – 'there are no rules (vidhi) involved in chanting the maha-mantra.' In fact theUpanisad guarantees liberation to anyone who chants the maha-mantra.
punar-naradah paprccha bhagavan ko'sya vidhiriti
tam hovaca – nasya vidhiriti
sarvada sucirasucirava pathan-brahmanah
salokatam samipatam sarupatam sayujyatameti
Again Narada enquired: 'O Lord, what are the rules to be observed with reference to it (chanting the maha-mantra)?" Brahma replied, "There are no rules. Whoever, in a pure or an impure state, utters these always, attains the same world of the Lord (salokya), proximity with the Lord (samipya), the same form as the Lord (sarupya), or absorption into Brahman (sayujya). (Kali-santarana Upanisad 3)
Objection 4:
The followers of Sankaracharya and the south Indian vaishnavas consider "Hare" in Mahamantra as " Hari or Narayana " where as gaudiyas consider "Hare" as "Hara or the internal potency Radharani". So there is disagreement.
Refutation:
Actually this is agreed by us so it not refutation. The Names in the maha-mantra are Hare, Krsna and Rama. The followers of the Sankaracarya school, as well as those of the Ramanuja and Madhva schools, conceive the Name of Hare to be the vocative case of Hari. Thus for them 'Hare' means Narayana, 'Rama' means Ramacandra and 'Krsna' means the avatar of Narayana [not Krsna the avatari, or source of Narayana].
The followers of Sankaracarya have adopted this version of the maha-mantra and the Vaisnavasampradayas of South India have also adopted the same. 'Hare' in all these sampradayas means Hari, or Narayana. In all circumstances their way of thinking is about liberation (mukti) and not actually about bhakti (devotion). Moreover, the followers of Sankaracarya are sometimes found to chant the maha-mantra and give more attention to the maha-mantra than the Ramanujasampradaya or the Madhva sampradaya. The Kali-santarana Upanisad and the maha-mantra are accepted by all these sampradayas, yet the maha-mantra is of little importance to them. Only the Gaudiya Vaisnavas stake everything on the maha-mantra.
For the followers of Sankaracarya, the Name 'Hare' means Hari – He who takes away one'skarma, material desire and illusion (maya). For Ramanujas and most Madhvas, Hari is He who takes away all inauspiciousness and bestows all good fortune. But for Gaudiya Vaisnavas the conception of Hare is altogether different.
For the Gaudiyas, Hare is the vocative case of Hara, the internal pleasure potency of Krsna. Thus Hare means Srimati Radharani.
It should not be misunderstood that we are arguing or fighting over the proper meaning of the names in the maha-mantra. There is certainly room for different bona fide conceptions within themaha-mantra. Each with his conception may attain that particular destination.
yei yei rupe jane, sei taha kahe
sakala sambhave krsne, kichu mithya nahe
In whatever form one knows the Lord, one speaks of Him in that way. In this there is no falsity, since everything is possible in Krsna. (Cc. Adi 5.132)
In this regard Srila A.C. Bhaktivedanta Svami Prabhupada writes in his purport to this verse:
If someone calls Lord Ramacandra by the vibration Hare Rama, understanding it to mean "O Lord Ramacandra!" he is quite right. Similarly, if one says that Hare Rama means "O Sri Balarama!" he is also right. Those who are aware of the visnu-tattva do not fight over all these details.
The way Gaudiya Vaishnavas relishes mahamantra is provided above in Srila Jiva Goswami's writing .
Contents of Kali-Santarana Upanishad :
In the Kali-santarana Upanishad (1-11) (One of the 108 principal Upanishads), the maha-mantra is established as the only means of deliverance in Kali-yuga:
hari om. dvaparante narada brahmanam
jagama katham bhagavan gam
paryatana kalim santareyam iti. [1]
"Hari Om! After travelling all over the world, Shrila Narada Muni approached Lord Brahma (his own father and guru) during the time when Dvapara-yuga was about to end. He asked him, "O Lord! How will all the living entities be able to deliver themselves from the most degraded age of Kali which is about to begin."
sa hovaca. brahma sadhu prishto'smi
sarva shruti rahasyam gopyam tac
chrinu yena kali samsaram tarishyasi.[2]
Lord Brahma replied, "You have asked the most important and relevant question for the benefit of humanity. I will tell you now the most concealed secret of the Vedic literatures, with the help of which everyone can easily cross this most dangerous age of Kali.
bhagavata adi purushasya narayanasya
namoccharana matrena nirdhta kalir bhavati [3]
"Simply by chanting the transcendental names of the original enjoyer and the Supreme Personality of Godhead, Lord Narayana, all the sins will be cleansed in Kali-yuga."
narada punah papraccha tan nama kim iti.[4]
Narada Muni again asked,"Which are those specific names of the Lord which are most effective in Kali-yuga?"
sa hovaca hiranyagarbah
hare krishna hare krishna, krishna krishna hare hare.
hare rama hare rama, rama rama hare hare; [5]
iti shodashakam namnam, kali-kalmasha-nashanam;
natah parataropayah, sarva-vedeshu drishyate. [6]
Lord Brahma replied, "The sixteen words-Hare Krishna, Hare Krishna, Krishna
Krishna, Hare Hare; Hare Rama, Hare Rama, Rama Rama, Hare Hare-are especially meant for completely destroying all the contamination of Kali. To save oneself from the contamination of Kali-yuga, there is no alternative in all theVedas except the chanting of this sixteen-word mantra.
iti shodasha kalasya jivasyavarana vinashanam;
tatah prakashate para brahma medhapaye
ravi rashmi mandali veti. [7]
"This maha-mantra consisting of sixteen names of Krishna is the destroyer of the (16-layered) illusory covering of all the living entities. Only when the coverings are destroyed, Lord Krishna, the Supreme Personality of Godhead will appear in the heart of the living entities, just like the sun appears with full intensity when the clouds are removed."
punar narada prapaccha bhagavan kasya vidhi-riti [8]
Shrila Narada again inquired from Lord Brahma-"What are the procedures and rules for chanting this maha-mantra?"
tam hovaca nasya vidhi-riti
sarvada shuci-ashucira va pathan
brahmanam salokya samipya
sarupatam sayujyatam eti. [9]
Lord Brahma replied, "There are no rules and regulations to chant this maha-mantra. It should be chanted always irrespective of whether one is in a pure or impure condition.
yadasya shodashikasya sardha trikotir japati.
tada brahma hatyam tarati vira hatyam.
svarna steyat puto bhavati. pitrideva
manushyanam apakarat puto bhavati. [10]
"When one chants the 16 names of the maha-mantra 35 million times (sardha trikotir), he absolves himself of the sins of killing a brahmana or a kshatriya, stealing of gold or engaging in harmful activities towards one's forefathers or other living entities.
sarva dharma parityaga papat sadyah sucitamapnuyat. sadyo mucyate sadyo mucyate ity upanishat. [11]
"By chanting the maha-mantra, one becomes quickly purified from all sins accumulated due to rejecting all of one's duties in our past lives. Thus the Hare Krishna maha-mantra, is the only means, the only means, the only means of thoroughly and immediately purifying oneself in Kali-yuga. Thus ends the Kali-santarana Upanishad."