Balarama Rasayatra and Sri Krsna Vasanta Rasa
BY: SUN STAFF - 28.4 2021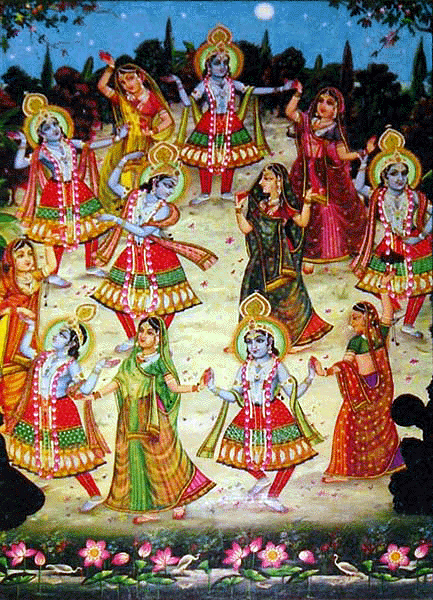 Sri Krsna's Rasa Dance
Balarama Rasayatra and Sri Krsna Vasanta Rasa are observed on April 26th and 27th.
April 26th marked the auspicious remembrance day of Lord Balarama's springtime rasa dance with His cowherd girlfriends. On the following day we observe Sri Krishna Vasanta Rasa, the Lord's springtime rasa lila pastime. Sri Krishna Vasanta rasa takes place on Vaisakha purnima, which is also the time Balarama performs His springtime rasa dance with the gopis.
"In order to keep the gopis in Vrndavana satisfied, Lord Balarama stayed there continually for two months, namely the months of Caitra and Vaisakha. For those two months he kept himself among the gopis and he passed every night with them in the forest of Vrndavana in order to satisfy their desire for conjugal love. Thus Balarama also enjoyed the rasa dance with the gopis during those two months." (Krsna Book II p.78)

Krsna and Balarama in Vrindavan
As described in Srimad-Bhagavatam 1:3:23, in the nineteenth and twentieth incarnations the Lord advented Himself as Lord Balarama and Lord Krsna in the family of Vrsni [the Yadu dynasty].
Vasudeva and Nanda Maharaja were stepbrothers. Vasudeva's father, Surasena, married a vaisya girl, and from her Nanda Maharaja was born. Later, Nanda Maharaja himself married a vaisya girl, Yasoda. Therefore his family is celebrated as a vaisya family, and Krsna, identifying Himself as their son, took charge of vaisya activities. Balarama represents plowing the land for agriculture and therefore always carries in His hand a plow, whereas Krsna tends cows and therefore carries a flute in His hand.
Balarama, who has the same original form of Krsna, is Himself a cowherd boy in Vrndavana, and He also considers Himself to belong to the ksatriya race in Dvaraka. Thus His color and dress are different, and He is called a pastime form of Krsna.
During their Vrindaban lila, Krsna and Balarama enjoyed many transcendental pastimes, which are described in the 10th Canto of Srimad-Bhagavatam. Gargamuni performed the name-giving ceremony for Krsna and Balarama, who spent their early life enjoying playful childish activities, crawling and walking, stealing butter and breaking the pots.
During their pastimes with the cowherd boys in the forests of Vrinaban, Balarama and Krsna killed numerous demons like Aghasura, Dhenukasura and Pralambasura, many of whom were sent by the demon Kamsa to kill the brothers. Later, they traveled to Mathura where they killed Kamsa's wrestlers, brothers, and Kamsa himself. Afterwards, they battled Jarasandha, and jumped from a mountain Jarasandha had set fire to.
Next they entered Dvaraka, where Balarama killed Rukmi and broke the teeth of the King of Kalinga during a chess game. Baladeva later went to Gokula, and on Raivataka Mountain he killed the mischievous demon ape Dvivida.
Lord Baladeva went to Hastinapura, which he pulled with his plow due to the arrogance of the Kauravas. Later, he went touring holy places, and killed Romaharsana and Balvala. Rather than join the battle of Kuruksetra, he returned to Dvaraka. Later, he left with His wife Revati.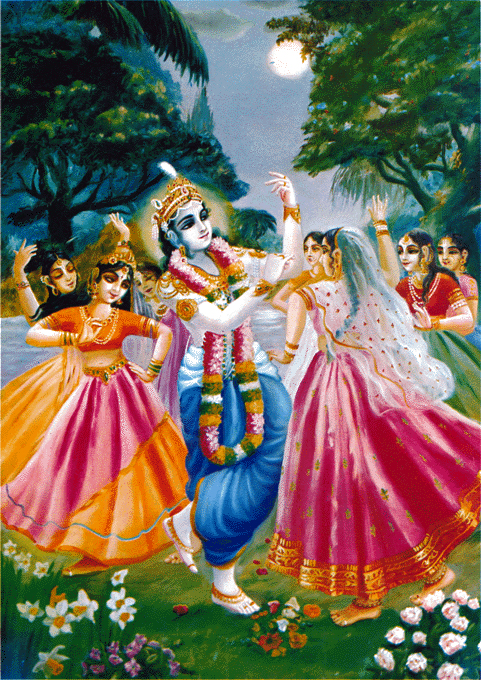 Lord Balarama's springtime rasa dance with His cowherd girlfriends

Rasa Lila of Lord Balarama
From the Garga Samhita
Chapter Nine
Shri Raama-raasa-kridaa (Lord Balaraama's Raasa Dance)
Text 1
duryodhana uvaaca muni-shaardula bhagavaan balabhadro naaga-kanyaabhir gopibhih kadaa kaalindi-kule vijahaara.
duryodhana uvaaca-Duryodhana said; muni-shaardula-O tiger of sages; bhagavaan-Lord; balabhadrah-Balaraama; naaga-snake; kanyaabhih-with the girls; gopibhih-with the gopis; kadaa-when?; kaalindi-kule'on the Yamunaa's shore; vijahaara-enjoyed pastimes.
Duryodhana said: O tiger of sages, when did Lord Balaraama enjoy the raasa dance on the Yamunaa's shore with gopis that had been snake-girls in their previous birth?
Text 2
shri-praadvipaaka uvaaca ekadaa dvaarakaa-naagaraad dhi taalaankam ratham aasthaapya suraan didrikshuh param utkantho nanda-raaja-gokula-go-gopaala-gopi-gana-sankulah sankarshana aagatash cirotkanthaabhyaam nandaraaja-yashodaabhyaam parishvakto gopi-gopaala-gobhir militvaa tatra dvau masau vasantikau caavatsit.
shri-praadvipaaka uvaaca-Supreme Personality of Godhe; ekadaa-one day; dvaarakaa-naagaraat-from Dvaarakaa; hi-indeed; taalaankam-marked with the sign of the palm tree; ratham-chariot; aasthaapya-mounting; suraan-the demigods; didrikshuh-desiring to see; param-greatly; utkanthah-eager; nanda-raaja-gokula-in King Nanda's Gokula; go-gopaala-gopi-gana-the cows, gopas, and gopis; sankulah-agitated; sankarshana-Lord Balaraama; aagatash-came; cirotkanthaabhyaam-yearning for a long time; nandaraaja-yashodaabhyaam-by Yashoda' and King Nanda; parishvaktah-embraced; gopi-gopaala-gobhih-by the gopas and gopis; militvaa-meeting; tatra-there; dvau-two; masau-months; vasantikau-in spirngtime; ca-and; aavatsit-resided.
Shri Praadvipaaka Muni said: One day, eager to see His devotees, Lord Balaraama mounted His chariot bearing a palm-tree flag, left Dvaarakaa, and, yearning to see the gopas, gopis, and cows, went to Gokula. Yashoda' and King Nanda embraced Him when He arrived. Later He met with the gopas and gopis. He stayed there for two months.
Text 3
atha ca yaa naaga-kanyaah purvoktaas taa gopa-kanyaa bhutvaa balabhadra-praapty-artham- gargaacaaryaad balabhadrapancaangam- grihitvaa tenaiva siddhaa babhuvuh. taabhir baladeva ekadaa prasannah kaalindi-kule raasa-mandalam- samaarebhe. tadaiva caitra-purnimaayaam- purna-candro 'runa-varnah sampurnam- vanam- ranjayan vireje.
atha-then; ca-and; ya-who; naaga-kanyaah-the snake girls; purvoktah-previously described; ta-they; gopa-kanyaa-gopis; bhutvaa-becoming; balabhadra-praapty-artham-to attain Lord Balaraama; gargaacaaryaat-from Garga Muni; balabhadra-of Lord Balaraama; pancaangam-the five methods of worship; grihitvaa-accepting; tena-by that; eva-indeed; siddha-perfect; babhuvuh-became; taabhih-with them; baladeva-Balaraama; ekadaa-one day; prasannah-happy; kaalindi-of the Yamunaa; kule-on the shore; raasa-mandalam-the rasa-dance circle; samaarebhe-attained; tadaa-then; eva-indeed; caitra-purnimaayaam-on the full moon of the month of Caitra; purna-full; candrah-moon; aruna-varnah-red; sampurnam-full; vanam-forest; ranjayan-making red; vireje-shone.
The previously described snake-girls became gopis and, in order to attain Lord Balaraama's association, on Garga Muni's advice followed the five methods of worshiping Lord Balaraama. In this way they became perfect. Pleased with them, Lord Balaraama enjoyed a raasa-dance with them on the full-moon night of the month of Caitra (March-April), a night when the red moon reddened the whole of Vrindaavana forest.
Text 4
shitalaa manda-yaanaah kamala-makaranda-renu-vrinda-samvritaah sarvato vaayavah parivavuh kalinda-giri-nandini-cala-laharibhir aananda-daayini pulinam- vimalam- hy acitam- cakaara. tathaa ca kunja-praangana-nikunja-punjaih sphural-lalita-pallava-pushpa-paraagair mayura-kokila-pumskokila-kujitair madhupa-madhura-dhvanibhir vraja-bhumir vibhraajamaanaa babhuva.
shitalaa-cool; manda-yaanaah-slowly moving; kamala-makaranda-renu-vrinda-samvritaah-filled with lotus pollen; sarvatah-everywhere; vaayavah-breezes; parivavuh-blew; kalinda-giri-nandini-cala-laharibhih-moving the Yamunaa's waves; aananda-daayini-delightful; pulinam-the shore; vimalam-splendid; hy-indeed; acitam-collected; cakaara.-did; tathaa-so; ca-and; kunja-praangana-nikunja-punjaih-with the forest goves and courtyards; sphural-lalita-pallava-playfully blossoming petals; pushpa-flowers; paraagaih-with pollen; mayura-peacocks; kokila-pumskokila-and cuckoos; kujitaih-cooing; madhupa-madhura-dhvanibhih-with the sweet hummingof bees; vraja-bhumih-the land of Vraja; vibhraajamaanaa-shining; babhuva-became.
Cooling, gentle, delightful, lotus-pollen filled breezes pushed the Yamunaa's waves and blew to the splendid shore. Then the land of Vraja became very splendid, its many forest groves and courtyards filled with the fragrant pollen of playfully and gracefully blossoming flowers, with the cooing of cuckoos and peacocks, and with the sweet humming of bees.
Text 5
tatra kvanad-ghantikaa-nupurah sphuran-mani-maya-kataka-kati-sutra-keyura-haara-kirita-kundalayor upari kamala-patrair nilaambaro vimala-kamala-patraaksho yakshibhir yaksha-raad" iva gopibhir gopa-raad" raasa-mandale reje.
tatra-there; kvanat-sounding; ghantikaa-bells; nupurah-anklets; sphuran-mani-maya-kataka-glittering gend bracelets with jewels; kati-sutra-belts; keyura-armlets; haara-necklaces; kirita-crowns; kundalayoh-and earrings; upari-above; kamala-patraih-with lotus petals; nilaambarah-blue garments; vimala-kamala-patraakshah-glistening lotus eyes; yakshibhih-with Yakshis; yaksha-raad-Kuvera; iva-like; gopibhih-with the gopis; gopa-raad-the king of the gopas; raasa-mandale-in the rasa-dance circle; reje-shone.
Decorated with tinkling ankle-bells, glittering gold and jewel necklace, armlets, belt, crown, and earrings, and with many lotus petals, dressed in blue garments, and His eyes like glittering lotus petals, Lord Balaraama was splendid with the gopis in the raasa-dance circle. He was like Kuvera surrounded by a host of beautiful yakshis.
Text 6
atha varuna-preshitaa vaaruni devi pushpa-bhara-gandhi-lobhi-milinda-naadita-vriksha-kotarebhyah patanti sarvato vanam- surabhi-cakaara. tat-paana-mada-vihvalah kamala-vishaala-taamraaksho makaradhvaajaavesha-calad-dhuryaanga-bhango vihaara-kheda-prasvedaambu-kanair galad-ganda-sthala-patra-bhango gajendra-gatir gajendra-shundaadanda-sama-dordanda-mandito gajibhir gaja-raajendra ivonmattah simhaasane nyasta-halo musala-paanih kotindu-purna-mandala-sankaashah prodgamad-ratna-manjira-pracala-nupura-prakvanat-kanaka-kinkinibhih kankana-sphurat-taatanka-purata-haara-shri-kanthaanguliya-shiromanibhih pravidambini-krita-sarpini-shyaama-veni-kuntala-lalita-ganda-sthala-patraavalibhih sundaribhir bhagavaan bhuvaneshvaro vibhraajamaano viraraaja atha ca reme.
atha-then; varuna-by Varuna; preshitaa-sent; vaaruni-Varu.ni; devi-goddess; pushpa-bhara-gandhi-lobhi-made greedy by the scent of the flowers; milinda-of bees; naadita-sounded; vriksha-of the trees; kotarebhyah-from the hollows; patanti-fall; sarvatah-everywheer; vanam-the forest; surabhi-fragrant; cakaara-made; tat-paana-mada-vihvalah-eager to drink it; kamala-vishaala-taamraakshah-His eyes large red lotus flowers; makaradhvaaja-of Kaamadeva; aavesha-from the entrance; calat-moving; dhuryaanga-bhangah-great limbs; vihaara-kheda-exhausted from pastimes; prasvedaambu-kanaih-with drops of perspiration; galad-ganda-sthala-patra-bhangah-trickling down His cheeks; gajendra-of the king of elephants; gatih-walking; gajendra-shundaadanda-sama-dordanda-manditah-decorated with arms like elephants' trunks; gajibhih-with female elephants; gaja-raajendra-the king of the kings of the kings of elephants; iva-like; unmattah-intoxicated; simhaasane-on a throne; nyasta-halah-weakened; musala-paanih-cluâ in hand; kotindu-purna-mandala-sankaashah-spleid like millions of moons; prodgamad-ratna-manjira-pracala-nupura-prakvanat-kanaka-kinkinibhih-with tinkling anklets and ornaments; kankana-bracelets; sphurat-glistening; taatanka-earrings; purata-golden; haara-necklace; shri-kantha-graceful neck; anguliya-rings; shiromanibhih-crest jewels; pravidambini-krita-mocking; sarpini-snake girls; shyaama-black; veni-braids; kuntala-hair; lalita-graceful; ganda-sthala-cheeks; patraavalibhih-with pictures and decorations; sundaribhih-beautiful; bhagavaan-the Supreme Personality of Godhead; bhuvaneshvarah-the master of the worlds; vibhraajamaanah-shining; viraraaja-shone; atha-then; ca-and; reme-enjoyed.
Then, sent by the demigod Varuna, Goddess Varuni, in the form of honey oozing from the hollows of trees filled with the humming of bees made greedy by the sweet scent of the flowers, made the entire forest very fragrant. Eager to drink that honey, His eyes now red lotus flowers, His limbs weakened by enjoying amorous pastimes, perspiration born from the fatigue of His pastimes now streaming down His cheeks and washing away the pictures and designs drawn there, walking like an elephant king, decorated with mighty arms like the trunks of elephant kings, as if intoxicated, sitting on a throne, relinquishing His plow, His cluâ still in His hand, splendid like ten million full moons, His jewel anklets, bracelets, and other ornaments tinkling, His gold earrings, necklaces, finger-rings, and jewel crown glittering, and surrounded by beautiful gopis, their cheeks decorated with graceful pictures and designs and their black braids mocking the beautiful snake girls, Lord Balaraama, the Supreme Personality of Godhea the master of the worlds, shone with great splendor, and enjoyed transcendental pastimes.
Text 7
atha ha vaava kaalindi-kula-kaantaara-paryatana-vihaara-parishramodyat-sveda-bindu-vyaapta-mukhaaravindah snaanaartham jala-kridaartham yamunaam duraat sa aajuhaava. tatas tt anaagatam tatinim halaagrena kupito vicakarsha iti hovaaca ca.
atha-then; ha-indeed; vaava-blew; kaalindi-kula-kaantaara-paryatana-wandering on the Yamunaa's shore; vihaara-from pastimes; parishrama-from fatigue; udyat-manifesting; sveda-bindu-drops of perspiration; vyaapta-covered; mukhaaravindah-lotus face; snaanaartham-to bathe; jala-water; kridaa-pastimes; artham-for the purpose; yamunaam-the Yamunaa; duraat-from afare; sa-He; aajuhaava.-called; tatah-then; tv-indeed; anaagatam-not come; tatinim-the shore; hala-of His plow; agrena-with the tip; kupitah-angered; vicakarsha-dragged; iti-thus; ha-indeed; uvaaca-spoke; ca-also.
His lotus face covered with perspiration born from the fatigue of wandering along the Yamunaa's shore and enjoying many pastimes, Lord Balaraama called for the Yamuna' to come to Him so He could bathe and enjoy water-pastimes. When the Yamuna' did not come, Lord Balaraama became angry and began to drag it to Him, scratching its shore with the tip of His plow. Lord Balaraama said:
Text 8
adya maam avajnaaya nayasi mayaahutaapi musalena tvam kaama-caarinim shatadhaa neshya eva nirbhartsitaa sa bhuri-bhitaa yamunaa cakitaa tat-paadayoh patitovaaca.
adya-today; maam-Me; avajnaaya-disrespecting; nayasi-you go; mayaa-by Me; aahuta-called; api-even thoguh; musalena-with the club; tvaam-you; kaama-caarinim-going as you like; shatadhaa-into a hundred streams; neshye-I will lead; eva-indeed; nirbhartsitaa-rebuked; sa-she; bhuri-bhitaa'very afraid; yamunaa-the Yamunaa; cakitaa-frightened; tat-paadayoh-at His feet; patitaa-fallen; uvaaca-spoke.
"Today you have no respect for Me. Even though I call, you ignore My order and go your own way as you wish. Now I will divide you into a hundred tiny streams." Rebuked with these words and now very afraid, the Yamuna' came before Lord Balaraama, fell at His feet, and said:
Text 9
raama raama sankarshana balabhadra mahaa-baaho tava param vikramam na jaane. yasyaikasmin murdhni sarshapavat sarvam bhu-khanda-mandalam- drishyate. tasya tava param anubhaavam ajaanantim prapannaam maam moktum yogyo 'si. tvam bhakta-vatsalo 'si.
raama raama-Raama Raama; sankarshana-Sankarshana; balabhadra-Balabhadra; mahaa-baahah-O mighty-armed; tava-of You; param-great; vikramam-power; na-not; jaane.-know; yasya-of whom; ekasmin-in one; murdhni-head; sarshapavat-like a mustard seed; sarvam-entire; bhu-khanda-mandalam-earth; drishyate.-is seed; tasya-of Him; tava-of Yoiu; param-great; anubhaavam-power; ajaanantim-not knowing; prapannaam-surrenedered; maam-to me; moktum-to realso; yogyah-is appropriate; asi-You are; tvam-You; bhakta-vatsalah-the lover of Your devotees; asi-are.
"Raama! Raama! Sankarshana! Balabhadra! O mighty-armed one! I did not know Your great power. The entire earth is seen resting like a single tiny mustard-seed on one of Your many heads. It is proper for You to release Me, who have now surrendered to You and who did not know Your true glories. You should release me because You are always affectionate to Your devotees.
Text 10
ity evam yaacito balabhadro yamunaam tato vyamuncat punah karenubhih kariva gopibhir gopa-raad jale vijagaaha. punar jalaad vinirgatya tata-sthaaya balabhadraaya sahasaa yamunaa copaayanam nilaambaraani hema-ratna-maya-bhushanaani divyaani ca dadau ha vaava taani gopi-yuthaaya prithak prithak vibhajya svayam nilaambare vasitvaa kaancanim maalaam nava-ratna-mayim dhritvaa mahendro vaaranendra iva balabhadro vireje.
ity evam-thus; yaacitah-requested; balabhadrah-Lord Balaraama; yamunaam-the Yamunaa; tatah-then; vyamuncat-released; punah-again; karenubhih-with many female elephants; kari-a male elephant; iva-like; gopibhih-with the gopis; gopa-raad-the king of gopas; jale-in the water; vijagaaha.-enjoyed pastimes; punah-again; jalaat-from the water; vinirgatya-emerging; tata-sthaaya-staying on the shore; balabhadraaya-to Lord Balaraama; sahasaa-quickly; yamunaa-the Yamunaa; ca-and; upaayanam-approach; nilaambaraani-blue garments; hema-ratna-maya-bhushanaani-ornaments of gold and jewels; divyaani-splendid; ca-and; dadau-gave; ha-indeed; vaava-went; taani-them; gopi-yuthaaya-to the gopis; prithak prithak-each one; vibhajya-dividing; svayam-personally; nilaambare-the blue garments; vasitvaa-dressing; kaancanim-gold; maalaam-necklace; nava-ratna-mayim-made of nine jewels; dhritvaa-taking; mahendrah-Indra; vaaranendra-the king of elephants; iva-like; balabhadrah-Lord Balaraama; vireje-shone.
Begged in this way, Lord Balaraama released the Yamunaa. Then He enjoyed in the Yamunaa's waters, as an elephant enjoys with its many wives. When He returned to the shore the Yamuna' approached and gave Him gifts of many blue garments and many ornaments of gold and jewels. Lord Balaraama divided the gifts among the girls, giving some to each gopi. Then He dressed in one of the blue garments and decorated Himself with a necklace of gold and nine kinds of jewels. Then He enjoyed with the gopis as the king of elephants enjoys with its many wives.
Text 11
ittham kauravendra yaadavendrasya raamatah sarvaa vaasantikir nishaa vyatitaa babhuvuh. bhagavato balabhadrasya hastinaapuram iva viryam sucayativa hy adyaapi ca krishta-vartmanaa yamunaa vahati. imam raamasya raasa-kathaam yah shrinoti shraavayati ca sa sarva-paapa-patalam chittvaa tasya parasparam aananda-padam pratiyaati. kim bhuyah shrotum icchasi.
ittham-thus; kauravendra-O king of the Kauravas; yaadavendrasya-of the king of the Yaadavas; raamatah-from Lord Balaraama; sarvaa-all; vaasantikih-springtime; nishaa-night; vyatitaa-passed; babhuvuh.-became; bhagavatah-of the Supreme Personality of Godhead; balabhadrasya-Lord Balaraama; hastinaapuram-to Hastinaapura; iva-like; viryam-power; sucayati-shows; iva-like; hy-indeed; adyaapi-even today; ca-and; krishta-vartmanaa-by the dragged path; yamunaa-the Yamunaa; vahati-flows; imam-this; raamasya-of Lord Balaraama; raasa-ofd the raasa dance; kathaam-the narration; yah-one who; shrinoti-hears; shraavayati-recounts; ca-and; sa-he; sarva-paapa-patalam-the entirety of a great host of sins; chittvaa-destroying; tasya-of him; parasparam-mutual; aananda-padam-the abode of bliss; pratiyaati-goes; kim-what?; bhuyah-more; shrotum-to hear; icchasi-do you wish.
O king of the Kauravas, in this way Lord Balaraama, the king of the Yaadavas, spent that springtime night with the gopis. Even today the Yamuna' flows in many divided streams at that place, a testimony to the great strength, equal to that of a host of elephants, of Lord Balaraama, the Supreme Personality of Godhead. A person who hears or recounts these pastimes of Lord Balaraama destroys the entirety of a great host of sins and attains transcendental bliss. What more do you wish to hear?"