Calcutta Woodcuts, Part 12
BY: SUN STAFF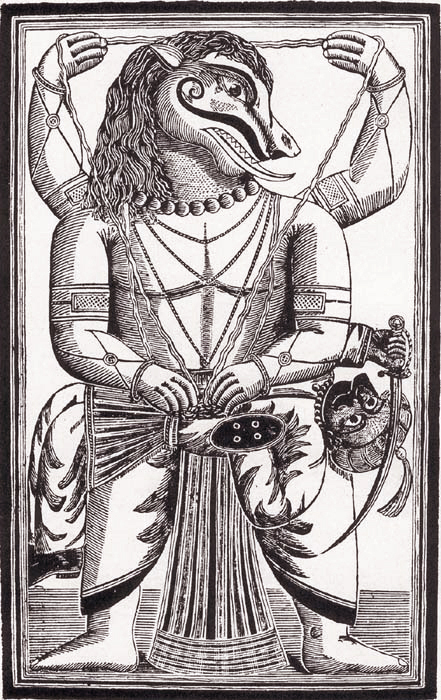 Lord Nrsimhadev
Transcendental art: the rare woodcut prints of nineteenth century Calcutta.
Following yesterday's image from Dasavatara (Lord Varaha, the 3rd incarnation), today we have a wonderful woodcut of Lord Nrsimhadev. Like Varaha Avatar, Lord Nrsimha is seen here in his four-armed form, with the demon Hiranyakasipu on his lap.
The artist has employed a number of elements that combine to make this a unique example of Bengali art. First, we note the absence of pillars in the picture. In their place, the artist has engraved the Lord's dhoti in bold strokes reminiscent of a column.
Hiranyakasipu's face has a lot of detail, and he holds onto his sword and shield as the Lord rips him apart. The demon's eyes are wide open in shock.
Lord Nrsimha's hands are quite human in this woodcut, with fingernails instead of sharp claws. Nrsimhadev's head, however, is fully lion-like. His mustache and tongue are very reminiscent of Bengali folk style figures.
The style used to depict the Lord's armbands or ornaments is quite unique, with the criss-crossed threads on his forearms. These geometrics are somewhat akin to the familiar columns in Lord Nrsimha pictures.
Another interesting feature is the geometric pattern of the Lord's hands, holding Hiranyakasipu's intestines up in the air in an inverted pyramid. The artist created an interesting aspect by draping the demon's innards around the Lord's neck, similar to a sacred thread.
This colored woodcut measure 25 x 39 cm.