Calcutta Woodcuts, Part 13
BY: SUN STAFF - 27.8 2019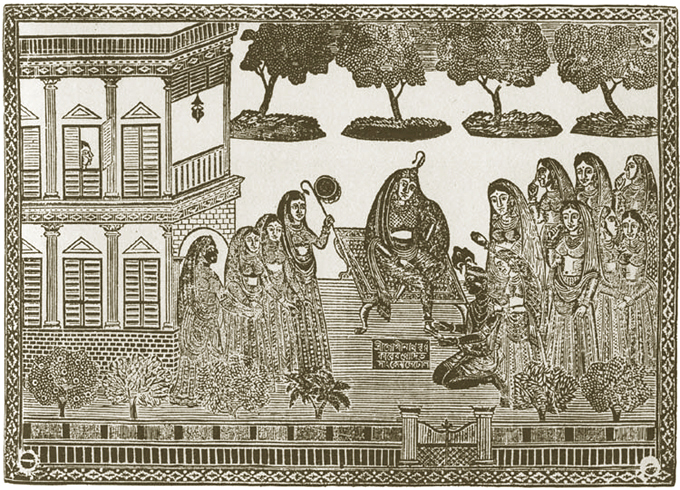 Krsna Tries to Soothe Radha's Anger
Transcendental art: the rare woodcut prints of 19th Century Calcutta.
Today's image from the Calcutta woodcut series depicts Lord Krsna trying to pacify the offended and angry Radha by touching her feet. In Manbhanjan, Radha and Krsna are surrounded by twelve Gopis. Their figures are rather shadowy, with their saris blending into one another and the foliage. This is indicative of either a poor quality print pressing or a woodblock that was not engraved deeply enough.
The gopis in attendance are in a number of interesting poses. One stands nearby holding a fan while those near her gesture forward towards the Divine Couple. On the right, two gopis face one another, talking confidentiality.
The asrama takes up a surprisingly large portion of the picture, given that the focus of activity takes place out on the verandah. One small, non-descript face looks out of a shuttered window.
In the background, four lush trees stand watching. The foreground is framed by a stonework balustrade, and the entire picture is framed with a simple geometric border.
The name of the piece, Manbhanjan, along with the artist's name are engraved in Bengali. This woodcut, engraved by Shri Gopinath Swark'nakar of Kambalitola, measures 34.7 x 24 cm.