Hearing the Unheard
By Ankita Soni - 24.5 2023
After a long time, someone has come forward to help the tribals in their area.
"Primitive, ignorant, jungle men, cannibals" – that's what you call us. But you tend to forget that you and I live under the same sky, breathe the same air, and eat fruits from the trees that flourish on the same soil. We are the one's trying to preserve this earth. Our preservation can help all of us survive, but the destruction and havoc you create in the name of modernization can lead all of us to perish."
Long, long ago humans lived very close to nature. Into their ears the nature whispered its secret; the rivers murmured their songs, and the birds sang their hymn to the nature. The nature was their mother, protecting and nurturing them. But slowly and gradually the monster of greed crept within some of them; their needs became insatiable. They dreamt of industries, big buildings, highspeed vehicles, and other modern luxuries. They dreamt of "development," which lead to havoc. They poisoned every fish, dried up every river, cut down every tree, and poisoned the air. And those who tried to protect Mother Nature, realizing that she was the sole foundation of their existence, were termed as primitive and uncultured. Today we also call them as "tribals."
Tribal Identity in Crisis
The identity crisis that the tribals face is nothing new. They have their houses but the land on which they build it is not their own; they live in the forest but every tree in it belongs to the government; a river flows through their area, but its water is poisoned and therefore undrinkable. Uprooted from their own land and neglected by the government these tribals are unwillingly forced to move to towns in search of a dignified lifestyle, but in return they pay a heavy price for doing so. Anapa Hemoam, a local tribal, says, "In our native place surviving without basic resources like water and employment was becoming increasingly difficult, so we migrated to cities thinking it would end our problems. Today we have jobs, our children are educated in city schools, but we have achieved these things at a heavy price: we had to lose our culture and identity. We tried to imitate the urban people but we don't fit in there. There is a constant struggle between obtaining the necessary resources and maintaining our identity. We can't afford to give up either because our existence depends on both."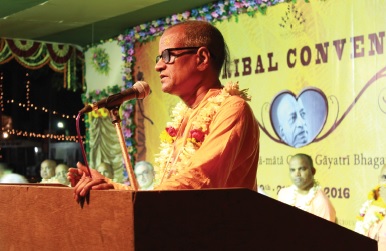 His Holiness Bhakti Purusottama Swami Maharaja addressing the tribals during the third annual convention in Mayapur
Another tribal Malati Boro adds to this her own experience, "We seem to have left behind the culture, our identity, that belonged to us when we moved to cities. Our community has fragmented, and all that remains seem to be like relics of the past. Perhaps in future we would be telling our children pointing at our kins who are still carrying the culture with them, "Look son, that's how our ancestors used to be, that's how once I had been, that's how you were supposed to be. . . It would be like telling a fairytale."
Just when the candle of hope of the tribals was extinguishing, ISKCON Tribal Care Initiative (ITCI) rekindled it. ITCI believes that the tribal community is a treasure trove of wisdom and there is a lot that we can learn from this community. The tribals are people who live a simple lifestyle in peace and harmony with each other and with nature. Their intimacy with nature, their innocence, their heart devoid of any malice or vices, is the perfect lifestyle that has the potential to teach the world the path one must follow to achieve Krishna consciousness.
ITCI thus embarked on a journey to fill the blanks present in the simple and holistic life of the tribals by means of the five cares: spiritual care, health care, emotional care, social care and educational care. Health care, emotional care, social care and educational care are all meant to provide basic needs to the tribals at their doorstep so that they don't have to migrate to cities for these needs. It can put an end to their struggle for both their identity as well as resources. Spiritual care aims to take the tribals on a journey towards finding their own selves and towards realizing their true identity. Spirituality will not only give them an identity as a tribal community but shall give them a more universal identity wherein they can realize that all human beings are connected and bound to each other by love.
Media propaganda makes the tribals feel they are backward although their culture and tradition are very rich. It is an amalgamation of millions of year of wisdom,celebration of life, appreciation of nature and celebration of brotherhood passed down to them generation after generation from their ancestors. In order to make them realize the magnificence of their culture, we need to give them a platform so the entire world can see it displayed in all its grandness.This motive gave birth to the annual Mayapur convention, which is where the tribal customs and tradition come to life.
The Third Annual ITCI Convention
The third annual ISKCON Tribal Care Initiative convention was held from April 19-21, 2016, in Mayapur, West Bengal. Tribes from Assam, Tripura, West Bengal and Odisha (including bhumij, boro, diphu, ge, kalho, karbi, kishan, munda, ho, rabha, reang, santhal, tanty, tea tribe and tripuri) assembled under one roof to interact, appreciate and acknowledge the tribal culture as well as the efforts of ITCI.
April 19: Go-puja was performed with continuous bhajanas and kirtanas sung by devotees. His Holiness Jayapataka Swami Maharaja and His Holiness Bhakti Purusottama Swami Maharaja addressed the audience.
April 20: The tribals were taken on dhama-darsana where they got to see all the nearby places connected to Lord Caitanya's pastimes.
April 21: The third day was a procession to the Ganga ghata. They performed sixteen upacara-puja, ganga-snan (bathing in the Ganga), tarpana (satisfying the ancestors) and sraddha-asthi-visarjan (immersing the ashes of the forefathers). There were seminars highlighting the importance and significance of these activities and the importance of initiation and Gayatri mantra.
The theme of the convention was "Jaya Govinda Ganga Mata Gavi Gayatri Bhagavad-gita". Nature and cow worship have been an inseparable part of tribal culture.They believe that they are as much a part of the nature as nature is a part of them.They set perfect examples of how to live on earth without imposing oneself upon her; how to honor Mother Eearth while taking one's daily needs from her; how to give back to her instead of abusing her. This sense of intimacy with the natural world springs from the fact that the tribals are mostly dependent on forest and forest resources for their livelihood. Thus the convention was a celebration of this age-old tradition which establishes the importance of human relationship to nature, the spirits, other humans, and the self.
The convention provided a platform for the tribals to display a rich and colorful array of their folk culture. Folk dance and folk music are the avenues through which tribals celebrate life and express their happiness. ITCI was privileged to share this happiness and be a part of such a rich cultural heritage.
It seems this was the first time the tribals felt that they had someone who did not look down upon them as a primitive race but rather appreciated their unique culture. Bibek Tantubai shares his experience of the impact that ITCI made upon their lives, "ISKCON's initiative has been a great blessing upon us, a ray of hope. We now have a platform where all of us have united, and it's benefiting us to re-establish our own solid foundation."
The convention stood as testimony for all the efforts and hard struggle the ITCI devotees had put up to make this dream come true. Seeing their smiling faces, how they displayed their culture with pride, seeing them accepting and immersing themselves completely in Krishna bhakti was a big achievement for ITCI. Sridhama Govinda Dasa, the overall coordinator, says, "Perhaps they are aware of the fact that only after the last tree is destroyed and the last animal killed will human society realize that they cannot eat money. These tribals find internal peace, happiness and satisfaction not in gratifying their desires but in living in nature and living with nature."
Through its constant efforts ITCI has now become an integral part of the tribal family. A long journey still lies ahead, but ITCI has firmly taken its first step.
Ankita Soni is pursuing her graduation in English literature from Ramanujam College of Delhi university.