Indian Prime Minister Narendra Modi Applauds Dayanidhi Das In Greece
By Kulavati Krishnapriya Devi Dasi - 29.8 2023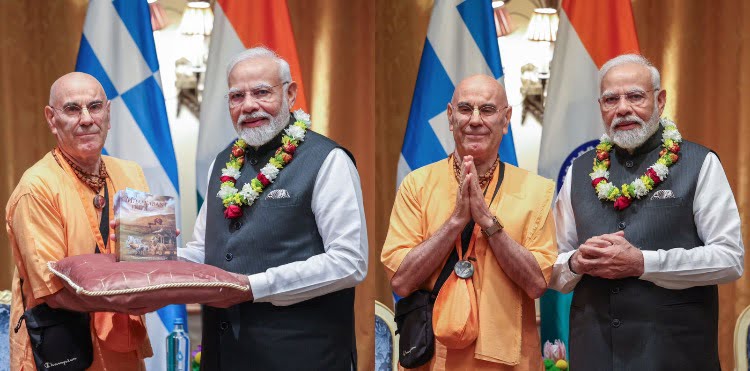 On August 25, 2023, Prime Minister Narendra Modi met with the temple president of ISKCON Greece, Dayanidhi Das. In the private conversation, which lasted about 15 minutes, Dayanidhi Das shared a copy of "Bhagavad-gita As It Is" in Greek and spoke about ISKCON's initiatives and objectives in Greece and worldwide.
Prime Minister Modi applauded Dayanidhi Das in a tweet for spreading Indian culture amongst the Greek youth and his active participation in community service initiatives.
In an X post (formerly known as Twitter), Prime Minister Modi said: "In Athens, I had the opportunity to meet Guru Dayanidhi Das Ji. Associated with ISKCON, he has been making innumerable efforts to make Indian culture popular among the youth of Greece. He is also at the forefront of many community service efforts."
In a statement posted by Asian News International, Dayanidhi Das said, "I am highly impressed by his kindness, his vision. We have known him for a long time. We had many interactions with him all over the world, and we love him very much. Amongst the leaders, I love him the most because he is a devotee of Krishna."
You can follow the inspiring service of devotees in Greece on their Facebook page or by visiting their website.
Images are courtesy of the official X account of Indian Prime Minister Narendra Modi.