New Krishna House Book Reveals Its Successful and Repeatable Strategies
By Thomas Haribol - 1.9 2023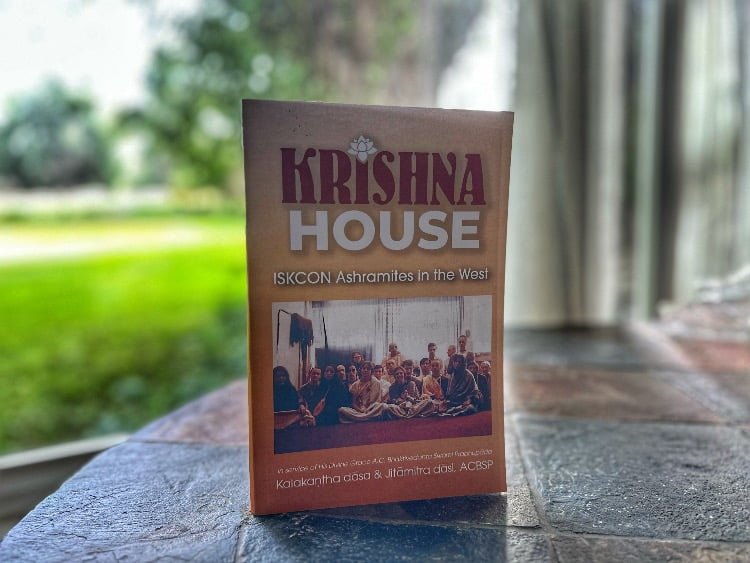 With nearly 20 years of success and the expansion of Krishna House ashrams, the leaders of this transformative approach have recently published a resource outlining the principles and practices that can be replicated by other devotees seeking to attract and form young people interested in Krishna Bhakti.
This second edition of "Krishna House: ISKCON Ashramites in the West" was published by Sweetsong Books in July 2023 and authored by Kalakantha Dasa and Jitamitra Dasi, both disciples of Srila Prabhupada.
Its publication is especially timely in North America, which has experienced a dramatic shift away from organized religion and seen a growing number of "nones," those who don't identify with any particular religious tradition. In the general population, they now represent 29% of all US adults, up from 16% in 2007, according to the latest data from Pew Research Center. The numbers are even higher among college-age Americans. While some of these young people lean agnostic/atheist, a significant percentage of those unaffiliated with traditional religion are still open to God and spiritual ideas.
Krishna Houses offer a sane, sensible, and soul-shaping approach that many of these spiritual seekers on campuses or in urban areas resonate with. One testimonial in the book put it nicely, "Krishna House is a safe and loving place where devotees feel free to open up and be themselves while receiving the personal care and guidance they need to find their niche in Srila Prabhupada's service. There is a healthy balance of sadhana, service, and recreational activities, which make the Krishna House experience both spiritually enlivening and lots of fun," said PP dd.
In addition, many second-generation ISKCON devotees have benefitted from the Krishna House approach as they leave their families and pursue a college education. They have gone on to flourish in their professional careers and actively participate in their local Bhakti communities.
The Introduction and Chapter One give a short history of ISKCON Ashrams, how the authors came to serve at Krishna House in Gainesville, and a sketch of their general approach. Building on Srila Prabhupada's example, they have innovated to meet the dynamics of the 21st century. "By adjusting for time, place, and circumstances, by removing as many cultural hurdles as possible, and by maintaining a strict yet fun atmosphere, Krishna House developed a life of its own," the authors noted.
Chapter Two outlines how to attract and transform devotees, addressing the three most common obstacles and creative solutions.
Creating a Bhakti Habitat is the focus of Chapter Three, where the authors delve into chastity in an intergender environment, devotee nomenclature, instructing and initiating gurus, respecting seniors, and more.
Chapter Five explores their goal to "help every student attain sustainable insight and joy" through spiritual practices and principles, like chanting and the regulative principles of freedom, so they can mature spiritually and leave bad habits behind. It also includes how applicants are screened and their scriptural curriculum.
"Beyond Krishna House," the title of Chapter Six, discusses how the program is also designed to prepare students for a lifetime in Krishna Consciousness as they pursue additional studies, enter the workforce, discern lifetime renunciation, and/or begin a family.
The final chapter demonstrates how the principles shared in the previous chapters can be replicated elsewhere, even apart from a college campus. Similar initiatives have already opened in Houston, Toronto, Dallas, and Philadelphia. A dozen ISKCON temples in North America have expressed interest in developing a similar program at our near their communities. The Krishna House model represents a very tangible manifestation of Srila Prabhupada's vision to reach the "undiscovered devotees [that] are standing on every street corner." As Indradyumna Swami said, "Having seen the success of Krishna House firsthand, I wonder why other leaders have not followed its example. Nothing speaks louder than success."
The small volume concludes with two appendices: "Bhakti Basics" shares the content of the brochure that is given to all Krishna House newcomers, and "Krishna House Testimonials" provides dozens of heartfelt appreciations from former or current Krishna House residents.
At less than 80 pages, this information-packed book can be easily read in one sitting. It will be a source of encouragement for all those concerned about continuing Prabhupada's mission to the West and instructive for those looking for creative and innovative ways to engage young people and spiritual seekers of all ages in this transformative tradition.