Shankha-kshetra: Panchatirtha
BY: SUN STAFF - 10.11 2020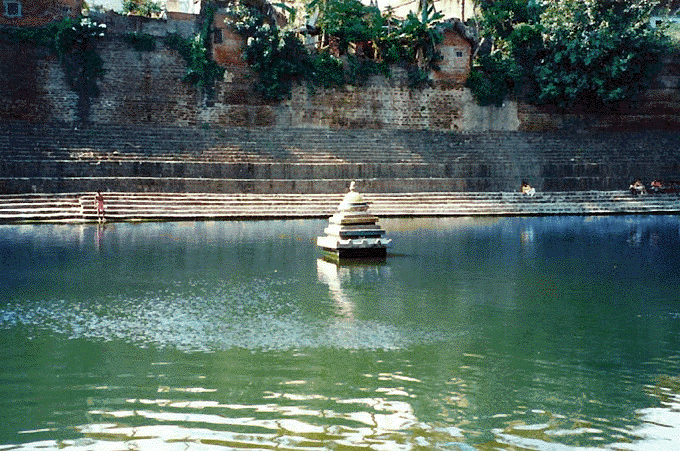 Indradyumna Tank
A seventeen-part series on Sri Jagannath Puri Dham - Shankha-kshetra: The Holy Dham at Puri Jagannatha's five sacred bathing places.
In Sri Shankha-kshetra, Jagannatha Puri Dhama there are five sacred bathing places, known together as the Panchatirtha. The five sites are Indradyumna Tank, Markandeya Tank, Swetaganga Tank, Rohini Kunda, and the Sea. Pilgrimage to Jagannatha Puri is not complete until one has taken holy bath in each of the Panchatirtha. We continue our series on Shankha-kshetra today with the first of these tirthas, the Indradyumna Tank.
Indradyumna Tank is located northwest of Gundicha Temple in the sixth fold of Shankha-kshetra. The area between Gundicha Temple and Indradyumna Tank is known as Nrusimha Kshetra. Situated along with Indradyumna Temple in the sixth fold are the Markandeya Tank, Swetaganga Tank, Manikarnika Siva Temple, and Mahodadi (the Sea).
Another way to visualize this place in Shankha-kshetra is that the entirety of Shankha-kshetra measures ten kroshas, with its core area measuring five kroshas. According to the Utkal khanda of the Skanda Purana, the five kroshas area (about 16 km.) of the dhama is conch shaped. Nearly half of the five kroshas area has also been underwater. The Nilakantha Temple, one of the eight Shiva temples in Shankha-kshetra, forms the apex of the conch, and it sits almost at the bank of the Indradyumna Tank.
The Indradyumna Tank is 396 feet wide and 485 feet long, covering four and a half acres. This sacred place is famously associated with Sri Krishna, in several of His Forms, including Lord Jagannatha and Sri Chaitanya Mahaprabhu. There is a temple by the kunda dedicated to Sri Krsna's youthful Vrindavan lila, and near that is a small shrine dedicated to King Indrayumna. Also nearby are the Deities of Lord Jagannath, Balabhadra and Devi Subhadra, having been constructed here by Visvakarma, near the kunda.
As the ruler of Orissa, King Indrayumna once arranged a shahasra-ashwamedha yagna, following a disastrous cyclone which had devastated the area of Nilachakra (Nilamadhava's 'blue hill'). This yagna materialised by the mercy of Lord Brahma, with King Indrayumna being instructed by a divine voice to arrange the yagna. The king was requested to perform the sacrifice in a specific place, so that a wooden log with divine qualities could float into view.
The king complied with the request, performing the ashwamedha sacrifice in what is now known as the Indradyumna Tank. The log, Daru-brahma, was later carved into the Deities of Lord Jagannatha, Baladeva and Subhadra by a carpenter engaged by King Indradyumna.