Shankha-kshetra: The Fourth and Fifth Folds
BY: SUN STAFF - 27.10 2020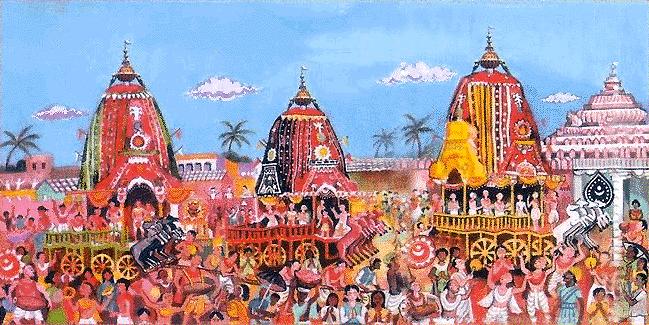 A seventeen-part series on Sri Jagannath Puri Dham.
Over the course of this series, we have been describing Jagannath Puri as Shankha-kshetra, a conch-shape which contains the Holy Dham and which is comprised of seven concentric folds. The innermost fold is the abode of the Jagannath Deities. The second fold surrounds them with a hexagonal shape that is home to four Devis, two tirthas, two sthala vrikshas and two tanks. The third fold is entered via the Singhadwara, or Lion's Gate, and located within it are the Baisipahach and Kurma Vedha.
The fourth fold forms the convex surface of the temple precinct (Mahakuma) and the inner compound wall. This convex surface is the lower section of the main rounded part of the conch's body (the top side of the conch). The fifth fold is the outer layer of the fourth, being the actual outer edge of the rounded conch.
In the fifth fold are the abodes of another eight Shivas and Devis, just as there are eight pairs in the third fold. The manifestations of Lord Shiva residing in the fifth fold are: Bisweswar, Markandeswar, Mahakaleswar, Karnameswar, Mukteswar, Ugreswar, Kapilalochana and Agreswer.
The eight Devis residing with their respective consorts are: Bisweswari, Saptamatrika, Dakshinkali, Charchika, Alameswari, Barahi, Banadurgeswari and Basulikeswari.
As is the case in the third fold, all sixteen of these personalities are charged with watching over Lord Jagannatha, Baladeva and Subhardra and supervising the goings-on in the temple complex.
Bata Markandeswar is one of the five Shivas in the fifth fold, so named because the deity is present at the root of the Bata Vrikya. The temple proper of Markandeswar is only two feet in height. The deity lingam is situated seven feet beneath the surface of the temple. A Rishi named Markanda lived a great number of years worshipping the deity here. Figures of Bata Markandeswar and Markanda Rishi adorn the walls around the temple, and brahmanas offer regular worship to the lingam.
The Markandeshwar Shiva temple sits alongside a holy tank by the same name – Markanda. It is one of a group pancha-theertham, including Shweta Ganga, Narendra, Indradyumna and parvati Sagar. There are some ancient inscriptions found on the steps nearby Markanda tank and the temple, which are of great importance to historians studying the antiquity of Puri Dham.
Off to the east of Rohini Kunda there still remain the footprints of the great sage Markanda. There is another famous Markandeshwar Shiva temple located in the village of Shahbad Markanda, near Kurukshetera. This one is also associated with the Markanda Rishi.