Srimad Bhagavatam Reaches 7th and Final Continent of Antarctica
By ISKCON News Staff - 18.9 2023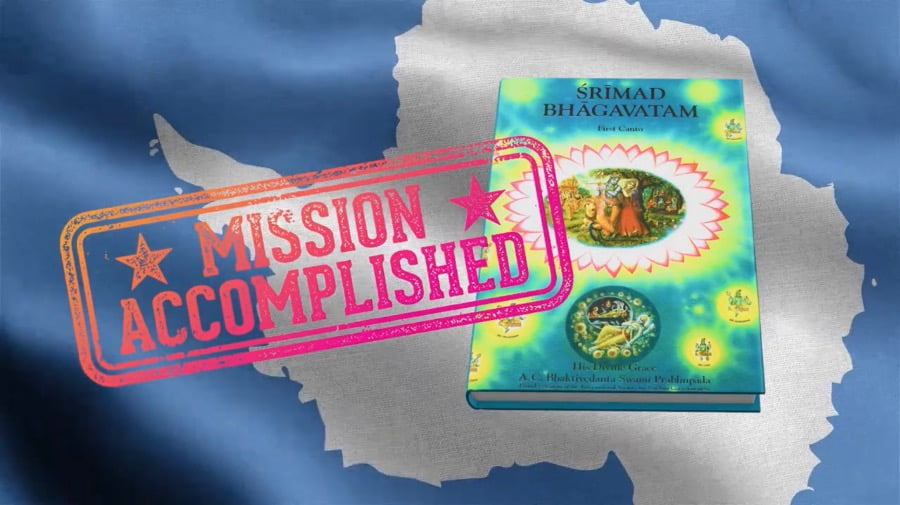 A recent short documentary released by the Bhaktivedanta Book Trust (BBT) explores the unlikely and inspiring journey of the Srimad Bhagavatam to Antarctica, the most remote continent on Earth.
Antarctica, the Earth's southernmost continent, is primarily covered by a massive ice sheet that holds about 70% of the world's fresh water. Despite being home to various life forms, like penguins and seals, no permanent human population resides on the continent year-round. Instead, Antarctica hosts a rotating community of scientists and support personnel from various nations who conduct research in the summer months.
The film "Planting the Flag: Antarctica" notes Vaisesika Dasa's suggestion to place sets of Srimad Bhagavatam on the most desolate continent on the Earth was part of his broad vision for the Bhadra Purnima marathon. "About five years ago, we started a worldwide effort to distribute Srimad Bhagavatam, giving everyone the opportunity to give Srimad Bhagavatam to others. Last year, we distributed 45,000 sets globally," said Vaisesika Prabhu on a podcast this week. The book distribution initiative has a multi-year plan to distribute 100,000 sets of the Srimad Bhagavatam worldwide and on every continent. The 2023 goal is to distribute at least 55,000 sets by September 29th. You can watch the short podcast interview for a direct contact to order a set for yourself or to gift a set to another.
Six years earlier, devotees had placed compact copies of "Bhagavad Gita As It Is" in Antarctica's research libraries. However, shipping an 18-volume set of Srimad Bhagavatam to the remote stations seemed an impossible mission. But Vaisesika and his team knew the history of Srila Prabhupada and ISKCON is a case study of "impossible" tasks becoming possible thanks to Krishna's unlimited resources. Srila Prabhupada once said, "Impossible is a word in a fool's dictionary," in an exchange with his disciple Ramesvara Prabhu. Writing about this, Vaisesika said, "Making Napoleon's famous dictum his own, Srila Prabhupada infused it with spiritual power."
To watch the full documentary on how a host of devotees in multiple countries helped the Srimad Bhagavatam reach souls in Antarctica's vast, frigid wilderness, click here.
The 2023 Bhadra Purnima Campaign is entitled "Join the Surge," and everyone is invited to participate. Visit the BBT on Facebook or watch the BBT's promotional video to learn more.