The Holy Places of Jaiva Dharma: Yamuna
BY: SUN STAFF - 27.5 2020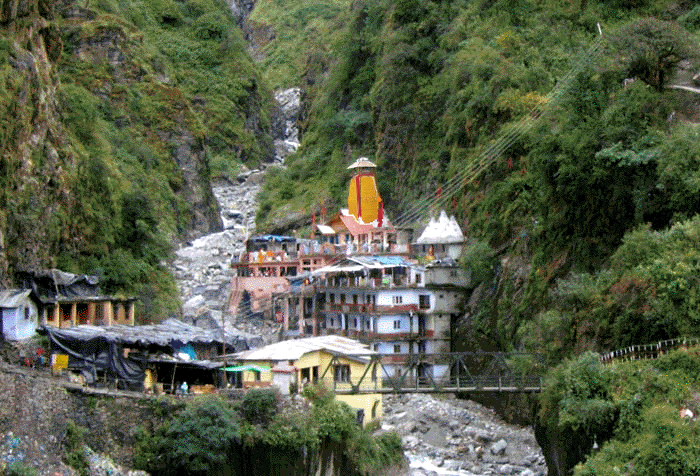 Yamunotri
A serial presentation of the holy places mentioned in the Jaiva Dharma of Srila Bhaktivinoda Thakur - Part 181.
Yamunotri
When making pilgrimage on the Char-dhama yatra, one begins at the western-most shrine of Yamunotri in the Garhwal Himalayas. Situated near the Yamuna River, in the area of three hot sulphur springs, the Yamunotir temple was built on a flank of the Bandar Poonch peak, approximately 10,600 feet above sea level. Where the road splits at Dharasu, Yamunotri sits opposite to Gangotri. The temple stands on the foothills of Kalinda Parvata, close to the thermal springs. The region is very close to the modern Indo-Chinese border and is surrounded on all sides by the Himalayan range.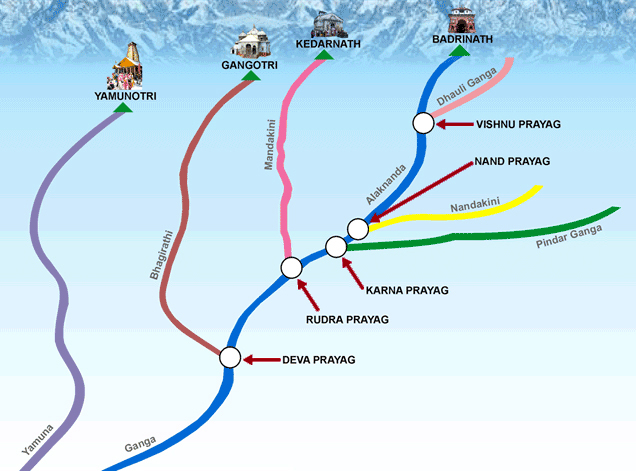 Yamunotri
Yamunotri is known as the source of the sacred River Yamuna, which actually originates from the Champasar Glacier, lying upstream of the shrine at an altitude of about 14,200 ft. As the map above indicates, sacred waters flow directly into the main branch of the Ganges from three of the Char-dhama – Gangotri, Kedernath and Badrinath , but the waters coming down from Yamunotri do not pass through the Panch Prayag system. Rather, these waters join the Yamuna at the Triveni Sangam in Allahabad. At their confluence, the Yamuna is larger than the Ganges.
While pilgrims flock to the Yamunotri temple site, few make the arduous journey to the source at Champasar, at Saptrishi Kund. For those who can make the journey, however, Saptrishi Kund is much loved for its dark blue waters, slate stones, and a rare variety of lotus adorning the kund waters.
Surya, the sun god, is the father of Yamuna and her brother Yama, the god of death. Therefore anyone who bathes in the River Yamuna is said to get special benediction from Yama at the time of death. Yamunotri dhama was also the home of the sage, Asit Muni.
The temple was originally built in 1839 by Tehri Naresh Sudarshan Shah, then re-built in the 19th century by Maharani Gularia of Jaipur after deteriorating with time, weather, and earthquake damage. Temple rituals and offerings are made to a deity of the Goddess Yamuna, carved in black stone. Temple rituals are overseen by the Uniyal family of pujaris. Before entering the temple, devotees offer worship to Divya Shila, at the shrine's entrance.
Of the numerous hot water springs around the temple, Surya Kund is considered the most sacred. Pilgrims cook rice and potatoes in the hot water of these springs, wrapping them in a piece of cloth and dipping them in the kund for a short time. The bhoga is offered to the presiding Deity, Yamuna Ma, then distributed as maha-prasad.