The Paintings of Sita Ram, Part 2
BY: SUN STAFF - 12.5 2023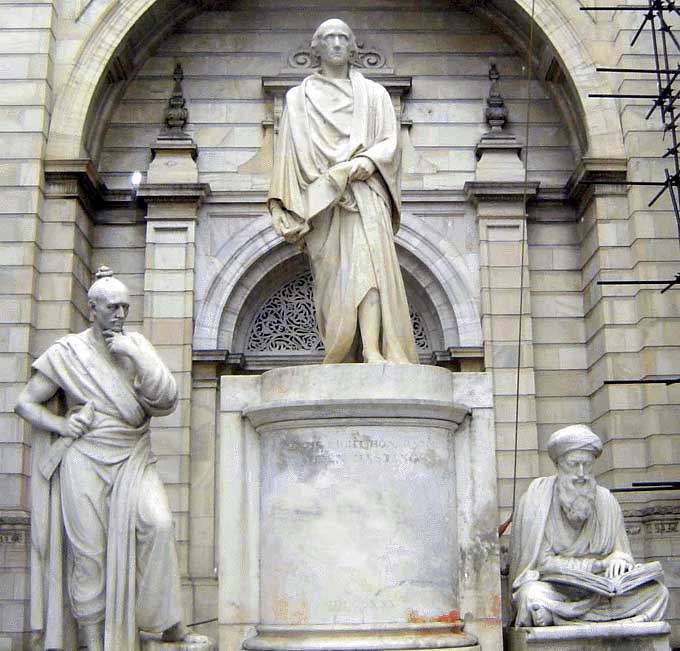 Lord Hastings Monument in Calcutta

A serial presentation of the extraordinary collection of Sita Ram's early 1800's watercolors depicting Indian temples and landscapes.
The artist Sita Ram was trained in the Murshidabad school of painting, a subset of the Company school. As we'll discuss in more detail later in the series, Sita Ram's influence can be seen in later Company school paintings, including the famous body of works from Patna. As a painter in the Murshidabad school, Sita Ram mastered watercolor techniques and also acquired the style of 'Europeanizing' his treatment of subject matter. This was no doubt one of the reasons he was chosen by Lord Hastings to serve as expedition painter.
Art historians often speculate as to what European painting influences may have found their way into Sita Ram's style, and whether Anglo painters like George Chinnery and Charles D'Oyly, who spent much of their painting careers in India and Southeast Asia, were among those influences.
Likewise, there much discussion among historians and Indologists about the Hindu and Muslim influences that impacted Lord Hastings. Not surprisingly, the Marquess of Hastings came into contact with many members of both cultural groups of the course of his extensive travels in India.
During the period of 1814 to 1823, when the Hastings expeditions went out across northern India, the Mughal invaders were enjoying the dog days of their rule. If we look at the Hastings period as it falls on the Mughal timeline, we see that by the early 1800's, the long decline of the Mughal Empire had wound almost completely down. Their armies were decimated, and their presence had dwindled to a few local palace courts. Nonetheless, Lord Hastings had many opportunities to meet with representatives of the waning Mughal empire in India, just as he met with many stalwart Vaisnavas and members of other Indian spiritual sects.
The image above attests to the importance of Lord Hastings' interaction with leaders of both Vedic and Islamic religions. This statue stands in Calcutta as a monument to Lord Hastings, and the counsel he received from both Vaisnava and Muslim leaders.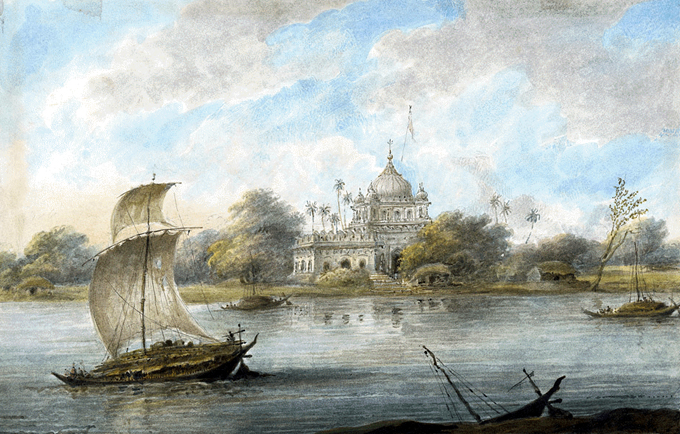 Visnu Temple on the bank of a River with River Craft at Ghysabad
Painting by Seeta Ram, c. 1820
British Library Collection
This watercolor of a Visnu temple on the Bhagirathi River was painted during the 1820-21 expedition, which coupled as a convalescent tour for Hastings through the Rajmahal Hills. Ghysabad is located seven miles north of Murshidabad in West Bengal. An inscription beneath the title was given by Sita Rama: 'Rajah Devee Sing's Bykoonth at Ghysabad'.
Author Shabana Mahmud wrote this about the body of work Sita Ram produced during his engagement as expedition painter for Lord Hastings:
"For the past 150 years, his paintings have been locked away in Mount Stuart, a Victorian mansion in Rothesy, off the west coast of Scotland. But the work found viewers when they were unexpectedly offered for sale by the descendants of Francis Rawdon, Marquess of Hastings and governor-general of India in the early 19th century, who commissioned them."
"Though the value of Sita Ram's work is now being appreciated - prices soared as high as Euro 6,900 when a few of his watercolours were auctioned in London recently - the man himself remains an enigma. In Hastings' journal he is mentioned only once - as a Bengali draughtsman. And no other work by Sita Ram has been discovered yet.
Hastings would have entrusted the recording of his grand tour to someone without an established reputation. Unless some new documents turn up unexpectedly, the enigma may well go unresolved."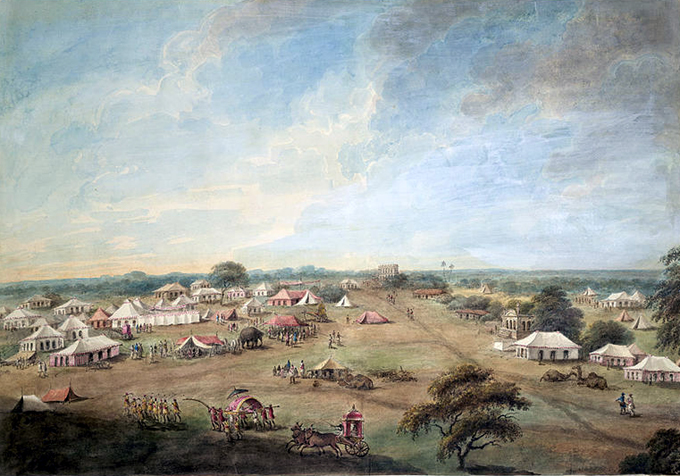 View of a Large Mughal Encampment
Painting by Seeta Ram, c. 1814
British Library Collection
This watercolor of a Mughal encampment was included in the folio, 'Views by Seeta Ram from Mohumdy to Gheen, Vol. V'.
"Moradabad, in Uttar Pradesh, was founded around 1625 by Rustam Khan, the governor of Katehr, who named it after the imperial prince Murad Bakhsh. The Afghan Rohillas acquired Moradabad in 1740 and controlled the city until 1773 when it passed to control of the Nawab of Awadh. Nawab Shuja ud-Daula of Awadh (r.1753-1775) subsequently ceeded part of his territory including Moradabad to the Britsh in 1801." (British Library)
This view of a large Mughal encampment was further described by Sita Rama with this inscription: 'Camp of the Deputation from the King of Delhi at Moradabad'.