The Paintings of Sita Ram, Part 5
BY: SUN STAFF - 19.5 2023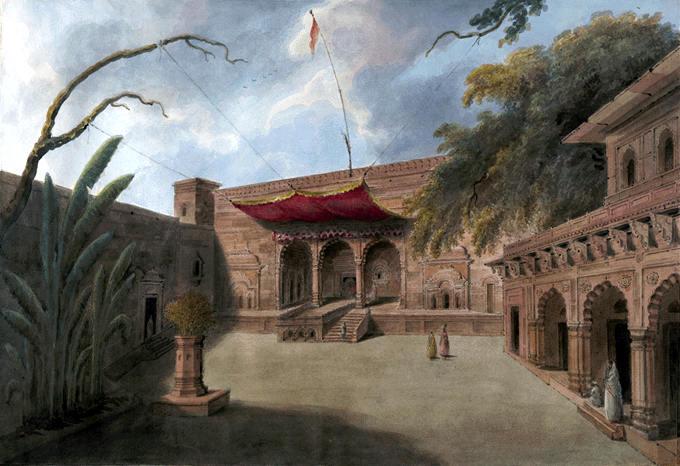 Courtyard of a Temple at Brindaban
Painting by Seeta Ram, c. 1815
British Library Collection
A serial presentation of the extraordinary collection of Sita Ram's early 1800's watercolors depicting Indian temples and landscapes.
In Part Three of this series we featured a group of beautiful watercolors by Sita Rama depicting numerous temples in Vrindavan. Among the dozens of folios of his work, these are among the very finest, as they preserve images of the Lord and His abodes in the Holy Dhama.
Srila Prabhupada described the temples established in Vrindavan by the Six Goswamis in his lecture on Caitanya-caritamrta in Dallas, March 4, 1975:
"Those who have gone to Vrndavana, they have seen the temple of Radha-Madana-mohana. That was established by Sanatana Gosvami, the first disciple of Lord Caitanya Mahaprabhu. Sanatana Gosvami established this Madana-mohana temple, and Rupa Gosvami established that Govindaji's temple, and the Jiva Gosvami established Radha-Damodara temple. Gopal Bhatta Gosvami established Radha-Ramana temple. In this way, in Vrndavana there are seven temples authorizedly established by the Gaudiya-sampradaya, Caitanya Mahaprabhu's sampradaya. Later on, many big, big kings and zamindars, landlords, they also established many temples, big, big temples. And altogether, there are five thousand temples in a small city like Vrndavana, and thousands of men go to see the Deities in every temple almost every day, and especially during the four months Sravana, Bhadra, Asvina, Karttika: July, in July, August, September, October. So Vrndavana is always crowded by many pilgrims, and anyone who goes there, immediately he feels spiritual consciousness, especially nowadays."
The painting above, 'Courtyard of a Temple at Brindaban', is included in the folio entitled 'Views by Seeta Ram from Tughlikabad to Secundra, Vol. VIII'. As with a previous painting shown in this series, British Library curators suggest that this is possibly "the Gopinath temple. Brindaban (Vrindavan) on the banks of the river Yamuna in Uttar Pradesh". Sita Ram's inscription on this painting is: 'Krishen Takoor at Bindrabund.'
Not only did Sita Rama paint these beautiful images of the temples of Vrindavan, he illustrated many other scenes of temples and landscapes in Mathura, including the two below. The first, 'A Wooded Hillside at Brindaban', bears the artist's inscription: 'Nid Bun at Bindrabund. The playground of Krishna.' This painting is included in the folio, 'Views by Seeta Ram from Tughlikabad to Secundra Vol. VIII'.
The description of this watercolor by the British Library states: "View of a wooded hillside at Brindaban, the Nid Ban, traditionally where Krishna sported with the gopis. Brindaban (Vrindavan) on the banks of the river Yamuna in Uttar Pradesh. Vrindavan is closely linked to the legend of Krishna and a pilgrimage site for Hindus, like Mathura located a few kilometres away. It was in the forests of Vrindavan that the youthful cowherd Krishna sported with milkmaids. It has several bathing ghats (stepped embankments) leading down to the river and overlooked by temples."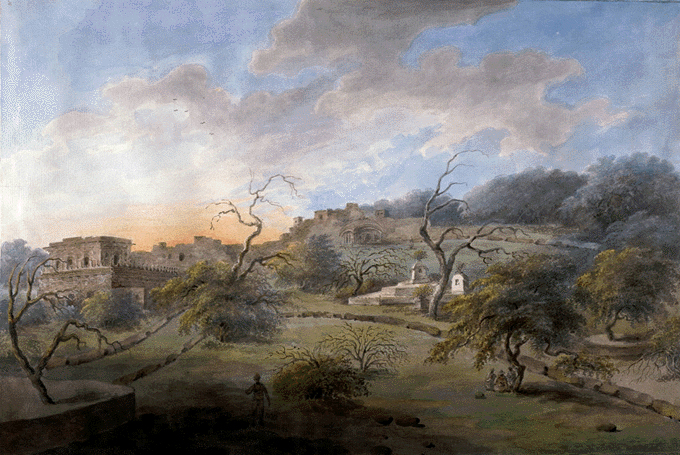 A Wooded Hillside at Brindaban
Painting by Seeta Ram, c. 1815
British Library Collection
The second painting below, entitled ' View of Mathura with 'Abd al-Nabi's Mosque in the Centre', is in the same folio, 'Tughlikabad to Secundra, Vol. VIII'. It bears the artist's inscription: 'Town of Muttra'.
This scene from Mathura includes both Vaisnava and Muslim temples and structures, but the vista certainly demonstrates the scope of intrusion by Islamist intruders. About this painting, the British Library staff write:
"View of Mathura with Abd al-Nabi's mosque [Jami Masjid] in the centre. The Jami Masjid, constructed in 1660-61 by Abd al-Nabi, Mughal Emperor Aurangzeb's (r.1659-1707) governor, is notably one of the first non-imperial mosques built during this period. Built above street level on a raised platform, the four minarets extending to 40 m in height and the facade once covered with multi-coloured tilework would have been visible from distances."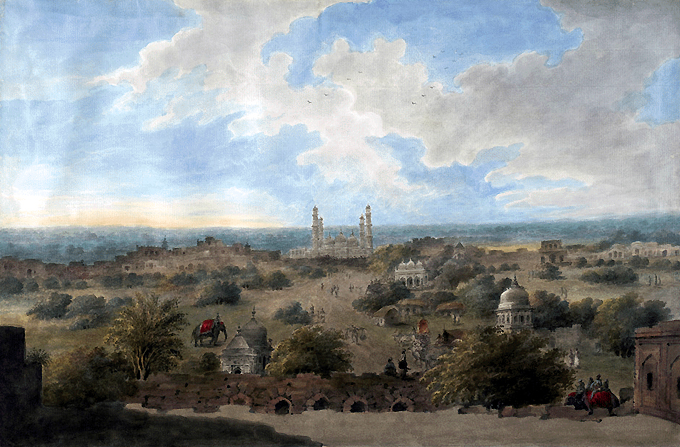 View of Mathura with 'Abd al-Nabi's Mosque in the Centre
Painting by Seeta Ram, c. 1815
British Library Collection
There were two moments in history, several hundred years before the Mughal invasion officially began, when Vaisnava temples in India were destroyed. These include the desolation wrought in Mathura by Mahmud of Ghazni in 1017 A.D., and the destruction of the temple at Somanath a few years later, when the same intruder ruined the Sivalinga and killed some 50,000 defenders. Mosques were built on both these sites.
With the arrival of Mughal emperor Babur in 1526 A.D., there was the destruction of Lord Rama's temple at Ayodhya. In 1688 A.D., Emperor Aurangzeb demolished all the temples in Mathura, said to number 1,000 at the time, and these were just a few of what many believe to have been the approximately 60,000 Hindu temples destroyed during the Mughal era. This gives us some historical perspective when we consider Srila Prabhupada's comments above, about the number of temples existing in modern Vrindavan.
Author and historian Vishal Agarwal writes: "Jehangir, the son of Akbar, destroyed the Varaha Vaishnava temple in Rajasthan, even while largely continuing the more tolerant policies of his father. But his son Shah Jehan revived the crippling pilgrimage tax on Hindu pilgrims visiting Vrindavan, Mathura, Ayodhya and other holy Vaishnava centers (and destroyed more than 80 temples in Varanasi) but rescinded it later. However, Aurangzeb reinstated this tax with a vengeance and ordered large scale destruction of temples in Mathura, Vrindavan, Ayodhya (and even in southern India).
The hard fact is that hardly any temples preceding the 17th century survive today in the Hindu centers in Gangetic plains. The revival of Mathura and Varanasi as religious places of Hindus perhaps owes more to the Marathas than to the Moghuls preceding them. To cite exceptional instances where Aurangzeb's Hindu nobles patronized a few Hindu temples and make much of them is like exonerating Hitler because he was a vegetarian and could not see animals suffer pain. In short, the flowering of some aspects of Vaishnavism during the rule of Mughals was not due to their patronage, but largely inspite of them and despite their periodic persecutions. The number of Hindu temples destroyed from 1500-1700 and replaced by mosques number in hundreds."
Agarwal also writes this about Aurangzeb: "In Mathura, the twin city of Vrindavan, he destroyed the Krishna Janmasthana temple, forcing the Hindus to stealthily remove the sacred Icons of Lord Krishna of other prominent temples in Mathura and establish them safely in the Hindu kingdom of Mewar and Jaipur. He destroyed numerous other temples in the Mathura-Vrindavan area including those constructed just a few generations earlier. Mathura was renamed as 'Islamabad'. The icons of practically all the major temples in Vrindavan established by the influence of Rupa Goswamin and his contemporaries were transferred to safe Rajput Hindu territories in Rajasthan due to actual or anticipated attacks on these temples at the orders of Aurangzeb."
Understanding the history of the destruction of temples in Sri Krsna's land of Mathura, we can appreciate all the more these beautiful paintings by Sita Ram, which preserve their beauty for future generation.