The Paintings of Sita Ram, Part 7
BY: SUN STAFF - 25.5 2023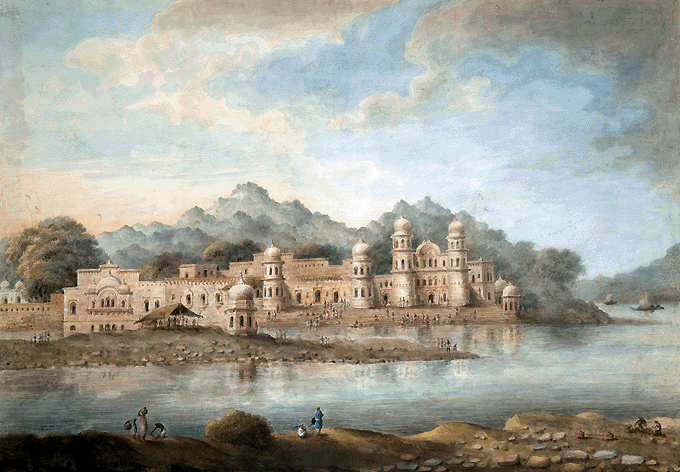 The Ghats at Hardwar
Painting by Seeta Ram, c. 1814
British Library Collection
A serial presentation of the extraordinary collection of Sita Ram's early 1800's watercolors depicting Indian temples and landscapes.
A Bengali, Sita Ram was famously engaged by the Englishman Lord Moira, who later became the Marquess of Hastings. Sita Ram accompanied Hastings on his journeys around North India, illustrating the scenes in sketches and watercolor paintings.
The Marquess of Hastings, who served as Governor-General of Bengal from around 1813 to 1823, traveled out on several great expeditions, journeying from Calcutta to Bombay and northwards to the Himalayan foothills. In our last segment of the series, which was interrupted for our month-long features on Damodar Masa, we began to explore Sita Ram's illustrations of holy bathing spots. Like his paintings of Vrindavan and Mathura, Sita Ram produced many excellent watercolors on bathing ghats at tirthas like Varnasi.
The first painting of sacred ghats, shown in the previous segment of this series, depicted "The Visrant Ghaut on the River Jumna at Mathura". Prior to this, we shared several wonderful paintings of the temples of Vraja. Today we go north, to Haridwar and the source of Mother Ganges.
In the painting above, entitled "Hurdwar from the East", Sita Ram captured the view of Haridwar, situated on the right bank of the Ganges in Uttar Pradesh. This site is famously known for the bathing ghat called Harikacharan, or 'Vishnu's Footprint', at the Gangadwara temple.
This watercolor was filed in the folio entitled 'Views by Seeta Ram from Mohumdy to Gheen, Vol. V'. The artist's inscription below the title states: 'Hurdwar from the East.'
The painting below is another illustration of the ghats at Hardwar, and the piece is titled just that. Included in the same folio of watercolors as the first, Sita Ram's inscription on this piece simply say, 'Bathing place at Hurdwar '.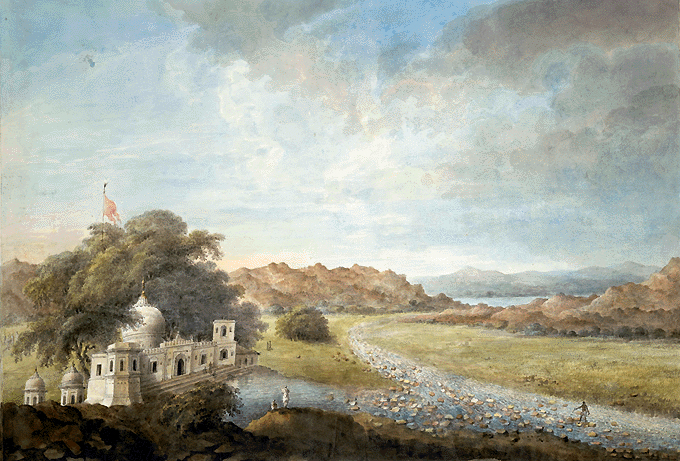 Hardwar and the Beginning of the Ganges
Painting by Seeta Ram, c. 1815
British Library Collection