Ayodhya
By editor - 19.9 2022

Ayodhya also known as Saket, is an ancient city of India, birthplace of Lord Rama and setting of the epic Ramayana. It is adjacent to Faizabad city at the south end in the Indian state of Uttar Pradesh. Ayodhya used to be the capital of the ancient Kosala Kingdom. It has an average elevation of 93 meters (305 feet).
Temples and mosques exist side by side in all architectural splendor in the twin cities of Faizabad and Ayodhya.
It is an important pilgrimage centre about 110 km from Lucknow
Ayodhya has been regarded as one of the seven most important pilgrimage sites (Saptapuri. The birth spot of Rama was marked by a temple, which was demolished by the orders of the Mughal emperor Babur and a mosque erected in its place. The Ayodhya dispute concerns the activism to rebuild a Rama's temple at the site.

According to one derivation, "Ayodhya" is said to derive from the name of King "Ayudh," mentioned in scriptures as a forefather of Lord Rama.

In the more accepted etymology, in word "Ayodhya", 'A' is feminine negation of the word Yodhya which comes from the root Yudh (to fight). A (negation) + Yodhya (winnable) + ā (feminine suffix). So, literally, the name translates as "A city that cannot be fought and won over in a war" or "unconquerable citadel"
The city is located at the banks of the Sarayu River and was the capital of the ancient kingdom of Kosala. The city was known to be founded by Manu, father of Mankind. It is one of the most frequently visited pilgrim spots and is famous for its various temples which are visited by people of various Indian religions.
Places to visit in Ayodhya
1) Kanak Bhawan
The spot at which the temple is built was considered to have a palatial house which was gifted to Sita immediately after her marriage by Lord Ram's step mother Kaikeyi. Kanak Bhawan is one of the most elaborately detailed places in Ayodhya and the architecture is marvelous.
This place houses deities of Sri Rama and Sita wearing gold crowns. It is also known as Sone-ke- Ghar. The temple palace was later renovated by King Vikramaditya of the Paramara dynasty and again rebuilt in 1891. The current exquisitely embellished temple was constructed by Vrishbhanu Kuvari, Queen of Teekamgarh (Madhya Pradesh). The main temple surrounds an open inner area which houses the sacred shrine of deities. The beautiful deities of Goddess Sita along with Lord Ram and his three brothers are marvelous to look at.

2) Treta ke Thakur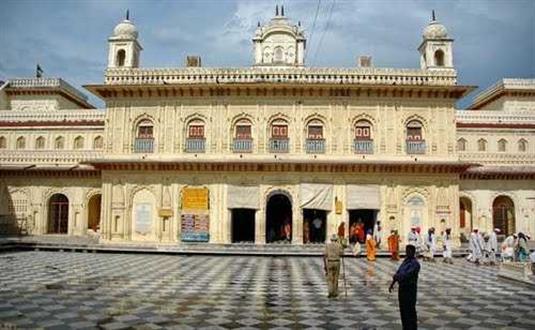 Treta Ke Thakur temple is located at bank of Saryu River. It is an ancient temple. This place is considered where Lord Rama performed many Ashwamedh Yajna. At the site, the Raja of Kullu built a new temple 300 years ago. This temple was further improved by Ahalyabai Hokar of Indore in 1784.During the same time, adjoining ghats were also built. From River Sarayu, the initial deities in black sandstone were recovered and installed in the temple, hence it is also known as Kaleram-ka-Mandir.
3) Chakravarti Maharaj Dashrath Mahal
Chakravarti Mahraj Dashrath Mahal,is also known as Bada Asthan and Badi Jagah. It opens for public from 8 am to 12 noon and 4 pm to 10 pm every day.
Ram Vivah, Deepawali, Shravan Mela, Chaitra Ramnavami and Kartik Mela are special occasions when number of devotees increases manifold..
Chakravarti Maharaja Dasrath Mahal is the place where Maharaja Dasharatha used to reside with his kith and kin. Now the place houses a temple, which depicts Ram, Sita and Lakshmana Bharat Shatrughan as the chief deities. Though the shrine is not much bigger in size, its environment provide such serene and tranquil feeling that the devotee would be able to sense the presence of the Lord Ram.
4) Ram Janmabhoomi Temple
The area although has been a center of dispute since the destruction of the Babari Masjid, the Ram Janmabhoomi Temple is one of the major attractions in Ayodhya. The place is considered to be the birthplace of Lord Rama.
Ayodhya was taken over by the Mughals when Babar entered India.The original temple was said to have been demolished by Babur in 1528 AD and built a mosque at the site. The mosque however was demolished in 1992 and the area has since been a ground of dispute among the Hindus and the Muslims in India.
5) Hanuman Garhi (Hanuman Gaddi)
Constructed in the shape of a fort, this place of worship of Hanuman is situated in the centre of the town. The 10th century temple is approachable by a flight of 76 steps. Hanuman lived here in a cave and guarded the Janambhoomi or Ramkot. The main temple contains the deities of Mother Anjani, with her son Bal Hanuman seated on her lap. The faithful believe that all their wishes are granted with a visit to this holy shrine.
A massive structure in the shape of a four sided fort with circular bastions at each corner houses a temple of Hanuman and is the most popular shrine in Ayodhya. Every day thousands of devotees visit Hanumangarhi to offer prayers and seek Lord Hanuman's protection from evils and blessings for happiness and prosperity.
6) Guptar Ghat
The sacred ghat on the bank of River Saryu is believed to be the spot where Lord Ram performed Jal Samadhi. An array of well maintained ghats, it was constructed by King Darshan Singh in the early 19th century. One can also visit Ram Janaki Temple, Old Charan Paduka Temple, Narsingh Temple and Hanuman Temple on the ghat.
7) Sarayu River (Ghagara river)
One of the most prominent waterways in Uttar Pradesh, the river finds mention in ancient scriptures such as the Vedas and Ramayan. Literally translating to 'that which is streaming', it flows through Ayodhya, and rejuvenates it and washes away all impurities.The ghats of Sarayu bring alive a deep spiritual experience.
8) Ram ki Paidi
Ram ki Pairi is the Saryu riverfront with a large stretch of ghats and gardens, skirted by a row of temples. It is visited by hundreds of devotees who come here to take a holy dip throughout the year on various religious occasions.Ram Ki Paidi is the attractive bathing ghat built for the convenience of multitude of Ram devotees to have a sacred bath in holy Sarayu waters.
Ram ki Paidi was constructed during 1984 near Nayaghat on the banks of river Sarayu in Ayodhya in Uttar Pradesh. There are long flights of steps that go in parallel lines on both sides of the river. These bathing ghats are raised for the convenience of the huge number of pilgrims who come here to have a holy dip. The water in the Ram ki Paidi is drawn from Sarayu by Motor Pumps.
These series of bathing ghats (25 in mumber) are located near the bridge on Ayodhya and Gorakpur high way at a distance of 3km from Ayodhya railway station. The Ram ki Paidi runs from the above bridge upto Laxman ghat. The beautiful garden and the reservoir are an added attraction to this place.
9) Nageshwarnath Temple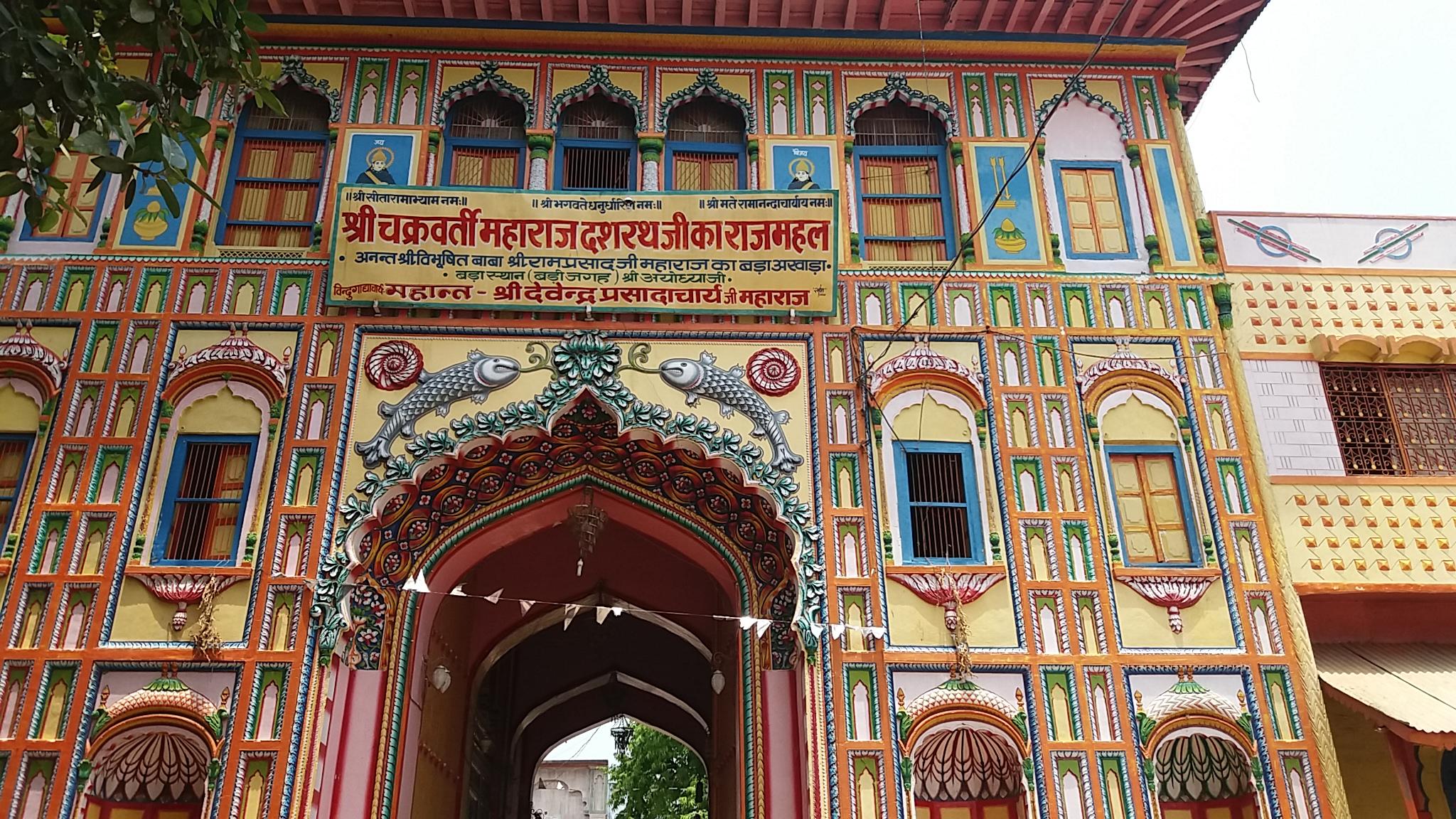 The temple of Nageshwarnath was established by Kush, son of Rama. Legend has it that Kush lost his armlet while bathing in the Sarayu, and it was retrieved by a Nag-Kanya who fell in love with him. As she was a devotee of Shiva, Kush built her this temple. It was the only temple to survive when Ayodhya was abandoned until the time of Vikramaditya. While the rest of city was in ruin and covered by dense forest, this temple allowed Vikramaditya to recognize the city. The festival of Shivratri is celebrated here with great splendor.
10) Tulsi Smarak Bhawan
Tulsi Smarak Bhawan is dedicated to the great saint-poet Goswami Tulsidas Ji. Regular prayer meetings devotional concerts and religious discourses are held here. The complex also houses Ayodhya Shodh Sansthan which has a large repository of literary compositions on Goswami Tulsidas. Ramleela is performed everyday from 6.00 pm to 9.00 pm at Tulsi Smarak Auditorium; it is a major attraction.
11) Mani Parbat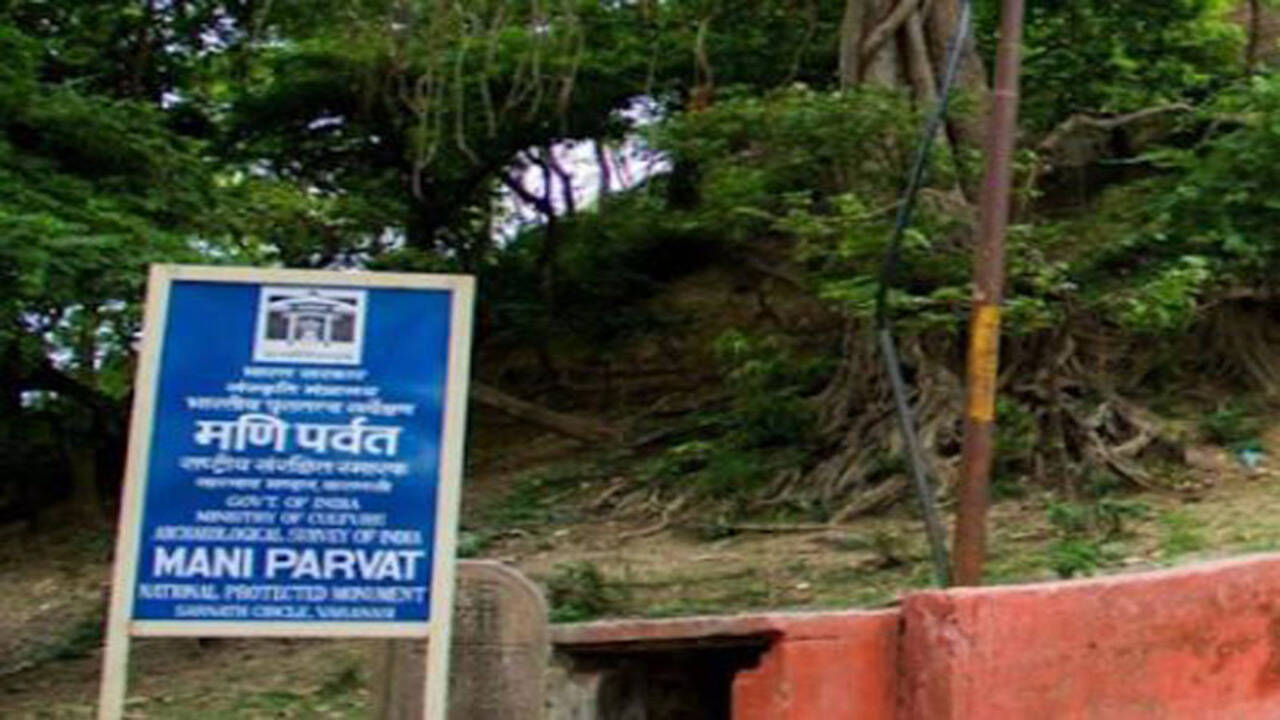 Mani Parbat is said to part of the hill containing Sanjeevani Booti (herb). It is said that a fragment portion had fallen down as the hill was been carried by Hanuman to heal Lord Ram's brother Lakshman. A beautiful mound having an elevation of 65 feet tall, it offers a beautiful view of Ayodhya.Various shrines lie atop the hill, while its base contains a Muslim graveyard. During his stay in Ayodhya for 6 years, Lord Buddha is considered to have preached the Law of Dharma from this parbat. It is around 3 kms from Kanak bhavan temple.
12) Dant Dhawan Kund

The Dant Dhawan Kund is situated near Hanuman Garhi temple. The Dant Dhawan Kund is said to be place where Lord Shri Rama along with his brothers used to cleanse their teeth on the bank of this kund.
According to a popular traditional story, at a time, there was a brahmin named Kaundilya living at this place. One day, his seat, made of dead skin of a deer (Mrig-charm), fell into the kund and got converted in a living deer miraculously. In due course of time it was revealed to him that he was a merchant in his previous life. In his life as merchant, he got chance to serve a great sage as a fruit of his worship to Tulsi plant. Now in this current life he got chance to have his residence at this kunda. Understanding the glories of this kunda and by the mere touch of this kund he got rid of all his sins. Soon he left his body and went to the abode of the Supreme.
13) Bharat Kund at Nandigram
Bharat Kund, at Nandigram (20 km from Ayodhya) is said to be the place where Bharat lived while Ram was in exile for 14 years.
Rama's brother Bharata had been away from Ayodhya when Rama was exiled. When Bharata returned, he learned that he was supposed to be the king in Rama's absence. Greatly disturbed by this news, Bharata went with a large retinue to Chitrakut to ask Rama to come back and rule the kingdom. Today, the Rama-Bharata Milap commemorates the spot where they met.
Although Bharata was sorry about Rama's exile, Rama was undisturbed. Bharata insisted again and again that Rama should come back to Ayodhya, and many others who had come with Bharata agreed. But Rama repeatedly refused the kingdom. "No, I've given my promise to my father. That's more important."
Finally, Rama gave the decision over to Janaka Maharaja, his father-in-law.Räma said, "Janaka Mahäräja is very experienced, religious, and expert—let him decide whether I should stay here in Chitrakut and complete the term of exile or go back to Ayodhyä and take up the kingship."Janaka Mahäräja, knowing the purpose of the Lord, said that Räma should stay in Chitrakut.
So the Bharat asked Lord Ram to give his wooden sandals (Padukas) and that he would worship them and rule Ayodhya on behalf of Him. It was here that Bharat maharaj lived in a cave like a hermit and worshipped the padukas of Lord Rama for next 14 years.