Chitrakoot Dhama, Part 4
BY: SUN STAFF - 4.5 2023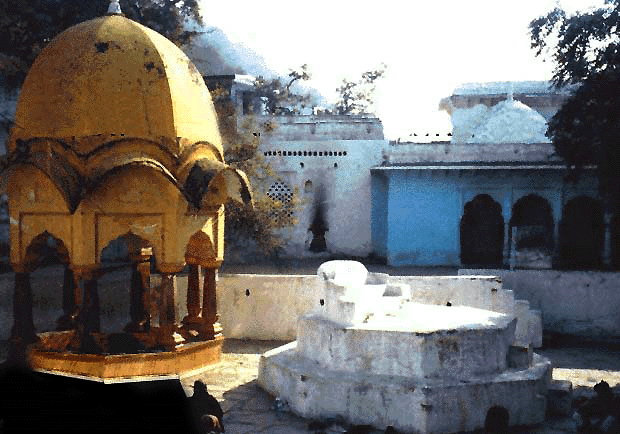 Bharat Milap
A serial exploration of the Holy Dhama of Chitrakoot.
Sri Bharata was Lord Rama's brother, the second of four sons of Dasaratha and Kaikeyi. After Ramacandra Himself, Bharata is said to be the personification of dharma, born in the aspect of Sudarshana Chakra, Lord Vishnu's famous Panchayudha. Bharata's consort was Mandavi Devi, the daughter of Kushadhvaja, who was King Janaka's brother, thus Mandavi became Sita Devi's cousin. Together, Mandavi and Bharata had two sons, Taksha and Pushkala.
In the epic Ramayana, we read about Kaikeyi's betrayal of the king, who she manipulated into promising to put Bharata on the throne, banishing Rama to a 14 year exile in the forest. Returning from his travels to learn of Rama's banishment, Bharata became furious, swearing to reverse his brother's exile. Refusing to serve in his place, Bharata instead placed Rama's shoes on the royal throne, and instead served the kingdom simply as Rama's loyal representative. Ayodhya's great guru, Vasishta, stated that no one better personifies dharma than Bharata.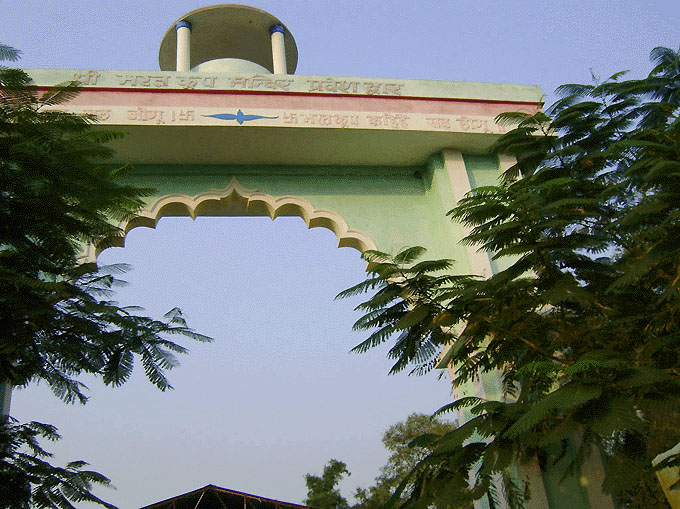 Bharat Koop
Bharat also built a small ashram at Nandigrama, from which he worshipped Rama's lotus feet. His wife Mandavi joined him in this pastime, and she also served their mothers Kaushlya, Sumitra and Kaikeyi in that place.
When Rama eventually returned to Ayodhya, Bharata led a great procession to greet his brother, Sita and Laksman. Continuing to serve Rama and his people as Yuvaraja, Bharata eventually retired along with Rama and Shatrughna, and these two later followed Rama in His departure from this world, walking into the River Sarayu behind Him, as Rama resumed his eternal Mahavisnu form.
Sri Bharata's pastimes are memorialized at many places in Chitrakoot. The Bharat Milap Temple marks the spot where Bharata met with Rama, trying to persuade him to return to the throne of Ayodhya.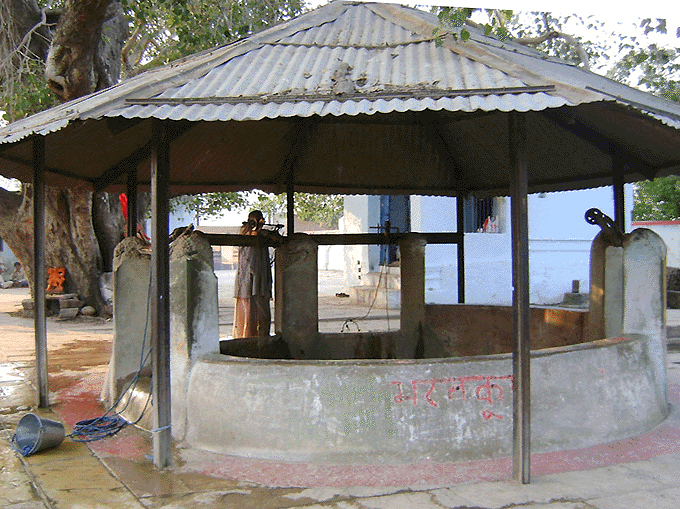 Bharat Koop
Bharat, along with his mothers, also met Rama, Sita and Laksman here at Chitrakoot during the time of their exile. So much devotion and loving affection flowed between the parties when they met here, that even the stones melted. Their footprints remain here at Chitrakoot to this day.
Lord Rama left Chitrakoot, first because of the hatred of a host of rakshasas, who were annoying the sadhus in their hermitages, thereby agitating Rama's mind. Secondly, a group of men from Ayodhya had come to Chitrakoot, defiling the place with their impious presence and activities. Chitrakoot also kindled the blaze of Rama's grief in remembering his brothers, the citizens of Ayodhya, and his mothers. Therefore, he left with Sita and Laksman to go into the Dandaka forests.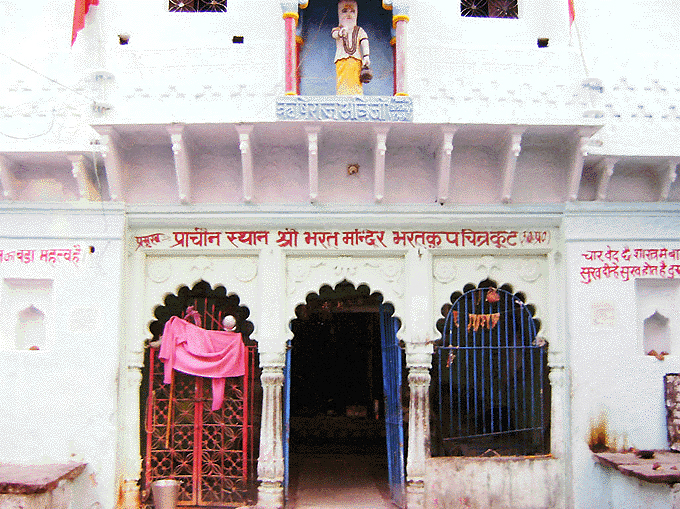 Bharat Koop
The Bharat Milap Temple in Chitrakoot is located on the back side of Kamadgiri Hill. Nearby is the Mandvi Mandir, a temple in honor of Bharat's wife. Also close by is the Bharat Koop, a holy theertham. This stone tank is the place where Bharat stored the holy waters he had collected from many places of pilgrimage in India.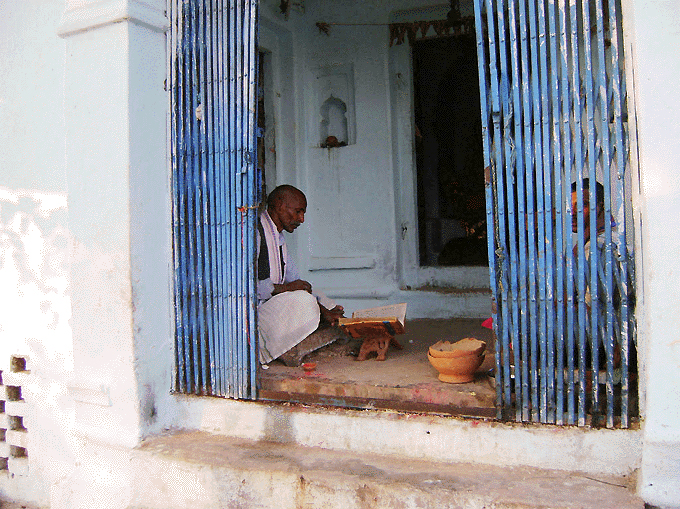 Priest at Bharat Koop
Bharat gathered these waters in order to offer them as an anointment to Rama, hoping to crown him the King of Ayodhya during his exile. Rama would not agree with this, however, so on the advice of the sage Atri, Bharat poured the waters into the deep well now known as Bharat Koop.
The small, isolated spot where Bharat Koop resides is a few kilometers from the center of Chitrakoot. There is also a temple dedicated to Lord Rama here. Today, there are residential areas built up around the place, and the surrounding area is also known as Bharat Koop, or Bharatpur village.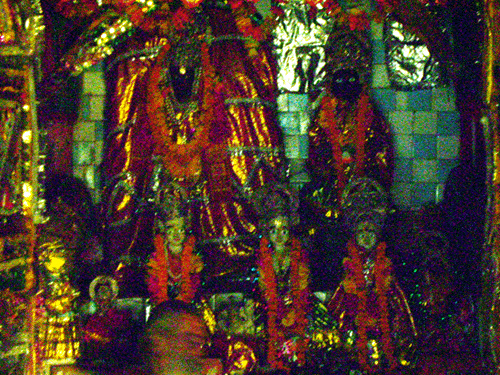 Sita-Rama Laksman at Bharat Koop temple