Chitrakoot Dhama, Part 7
BY: SUN STAFF - 5.5 2023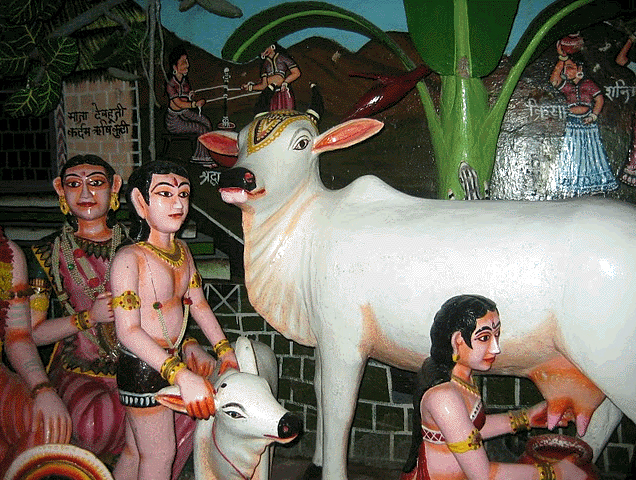 Sati Anusuya Asrama
A serial exploration of the Holy Dhama of Chitrakoot.
Sati Anusuya Asrama
About 16 kilometers upstream (south) from the Ramghat at Chitrakoot is the Sati Anusuya Asrama. At this place, deep in the thick forest, the great sage Atri Muni and his wife Anusuya lived, along with their three sons. Their sons are said to be none other than incarnations of the Trimurti personalities: Brahma, Visnu and Shiva. The family meditated together here at the asrama, performing various pastimes.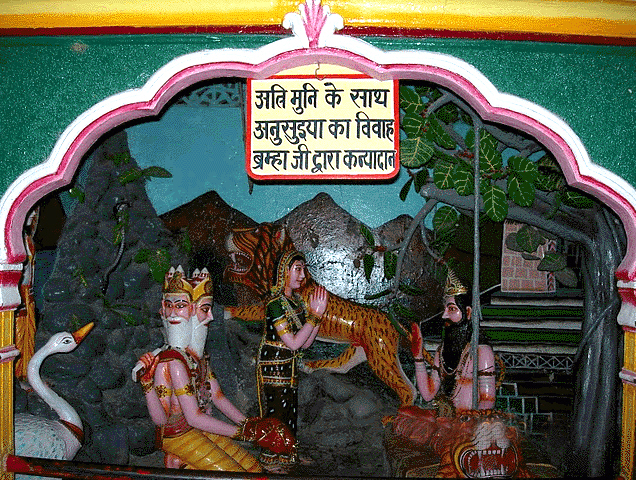 Anusuya Sati and Atri Muni receive Brahma's blessings
At one point during their residence at Chitrakoot, the village was suffering greatly because they had received no rain for ten long years. The people were experiencing terrible famine, and neither the people, animals or birds had adequate food or water. Sati Anusuya began to perform severe austerities, and succeeded in getting the River Mandakini to manifest on the earth. This allowed the area to be replenished with greenery and moisture, thus allowing the birds and animals to return to their habitat, and removing the suffering of the sages.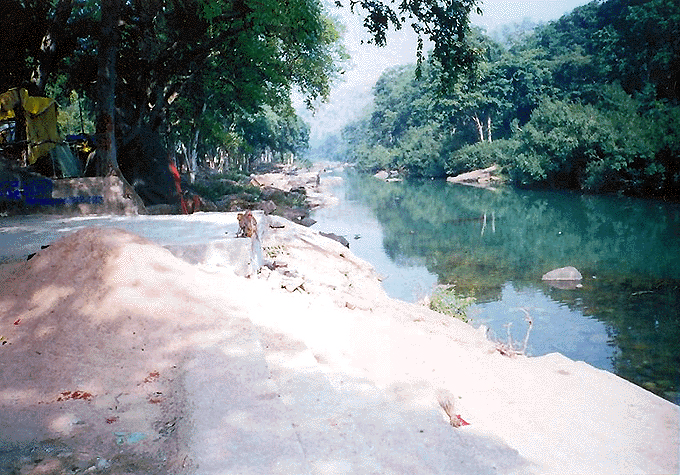 Mandakini River at Sati Anusuya Asrama
The pastimes of Sati Anusuya are memorialized at the asrama tirtha, which is situated in a beautiful and peaceful spot near the confluence of the Mandakini and several other streams. The temple is cut into a cliff face that rises straight up from a road along the riverbanks. In the Asrama shrine there are murtis of Anasuya, her husband Maharshi Atri, their sons Duttatreya, Durwasa, and Chandrama, and various other sages and deities.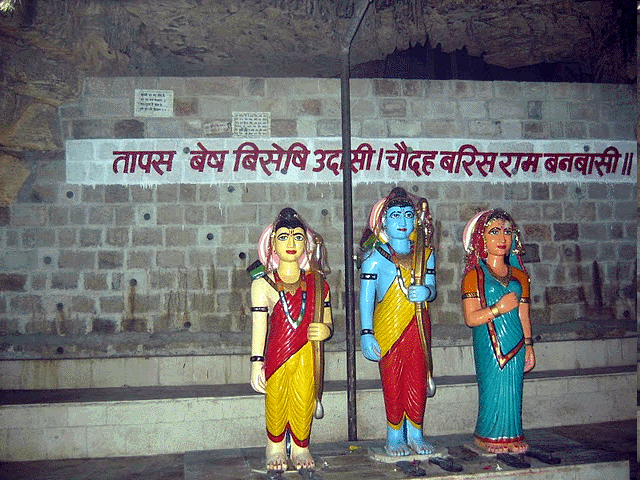 Sita, Rama and Laksman, Sati Anusuya Asrama
Lord Rama and Sita also visited this place to meet Maharishi Atri and Sati Anusuya. Here, Sati Anusuya explained to Sita Devi the grandeur and importance of satitva.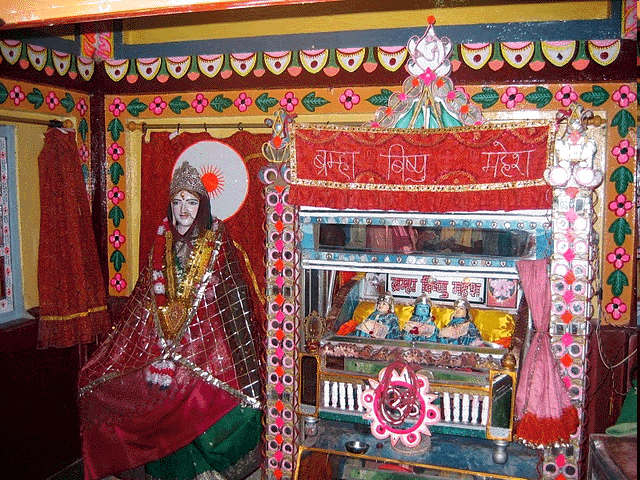 Sati Anusuya and babies
The dense forests of Dandaka begin here, near the asrama, and grow outwards. At one time the area was ruled by Ravana, who put his rakshasa representatives Khara, Viradha in charge, and with their demon associates, they ruled with a hard hand, inflicting much anxiety upon the people of Chitrakoot.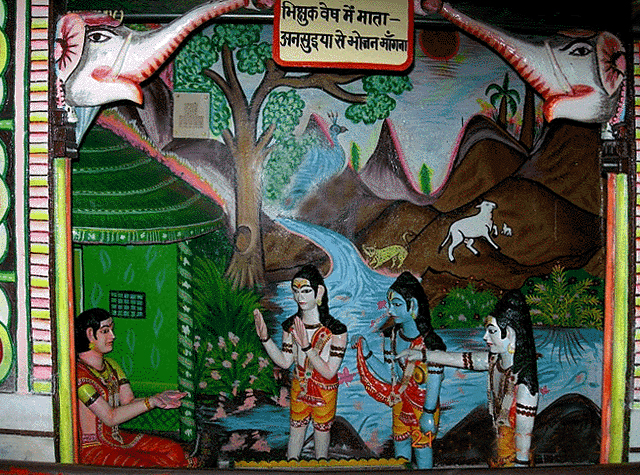 Sati Anusuya and Trimurti
Sati Anusuya Mandir