ISKCON Patna Inaugration report
By editor - 11.5 2022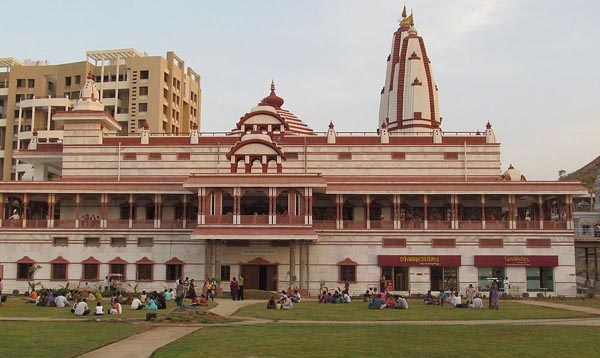 On the Auspicious day of Akshya Tritiya – Sri Sri Gaur Nitai, Sri Sri Radha Banke Bihari, Sri Sri Sita Ram Lakshman Hanuman ji and grand inauguration of Vedic education center (ISKCON Patna) took place in presence of Governor of Bihar, Chief Minister and many state and center ministers. More than 2000 devotees participated from all over the world & 10 ISKCON Sanyasis, GBCs, Srila Prabhupada disciples & 50 temple Presidents were present. It was 3 days festival.
Attendance of Sanyasis and Srila Prabhupada Disciples:
HH Lokanath Swami, HH Gopal Krishna Goswami, HH Radhanath Swami, , HH Sukadeva Swami , HH Amiya Vilas Swami, HH Bhanu Swami, HG Bhima Prabhu,HG Devakinandan Prabhu, First day : (Vaishnav Homa )
Program started on 1 May. Devotees arrived from all over the world. Their accommodation was registered and arrival was confirmed 1 month in advance for the Grand Opening of New Temple at Patna. It was wonderful festival as they arrived at the venue. Everything was well managed by HG Krishna Kripa Prabhu's Team and Devotees were very comfortable with their services. The Fire Sacrifice was started held in the Auditorium Hall by HG Seva Atula Prabhu's team. Same time HG Bhakti Vinod Anugrah Prabhu's team of Devotees lead Kirtan.
Second day : (Santi homa, Netronmilan Darshan, Sayana Adivasa)
2 nd May Program ISKCON Patna Adivas kirtan was done . HG Seva Atula Prabhu's team opened curtain and Devotees took first Darshan of
Sri Sri Gaur Nitai, Sri Sri Radha Banke Bihari, Sri Sri Sita Ram Lakshman Hanuman ji (Netra Unmilanam) 8pm to 12pm Shyan Adivaas. All the deities were put to rest and devotees got special darshan while deities were taking rest.
3 rd May (Akshya Tritiya)
5.30 am Jagaran was done after that at7 – 8am: Nyasadi happened.
From 9:30 – 11am: Abhisheka of deities was done by all devotees. First All Prabhupada disciples and Sanyasis did Abhishek after that many senior devotees did Abhishek of the lord. Then Pushpa Abhishek was done.
From 12:15 –3 pm: Prana Pratishtha, dressing done and Bhoga was offered.
At 2:3 pm first Darshan was opened and Arati of SRI SRI Radha Banke Bihari was done be HH Gopal Krishan Goswami Maharaj ji, HH Lokanath Swami Maharaj and HG Bhima Prabhu.
After the first Darshan HH Loknath Swami Maharaj ji did ecstatic kirtan. All the devotees danced in jubilation.
At 7 pm CM Nitish Kumar, Governor of Bihar, Ashwini Chaubey (Lok Sabha Member)
and many government officials came for darshan . They offered arati to the lord. After that the temple was opened for the general public.
Crowd came like river flowing into sea. It was fabulous to see so much enthusiasm in people to have the first Darshan of the lord. Thousands of people took darshan of the lord on the first day.
This temple is on the main road and five minutes walking distance to the railway station and 15 minutes drive from Airport.
HG Krishna Kripa Prabhu worked hard to construct this temple it takes it took almost 10 years for this temple. This was a wonderful festival. All the devotees were very happy
for the program and for the service they got.

Festival Highlights:
1.Cheif Minister of Bihar Sri Nitish Kumar Inaugurates the Temple and offered pushpanjali to Srila Prabhupada
2. Above 10 ISKCON Sanyasis attended the ceremony
3. 50,000 Plates of Prasadam were distributed
4. A huge fire sacrifice was conducted and abhishek was done