Middle Kingdoms of India, Part 47
BY: SUN STAFF - 12.4 2021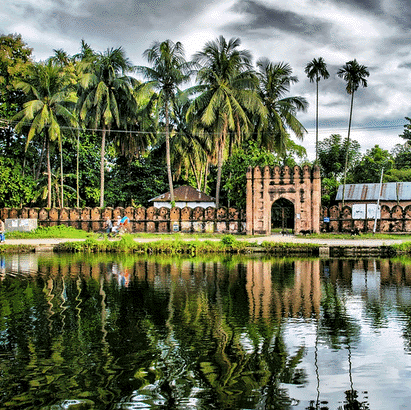 Idrakpur Fort, Munshigonj
Built in 1660 A.D.
A serial presentation of India's great history, religious movements and temple architecture.
The Candras
The Candra Dynasty, contemporaries of the Palas, ruled over the kingdom of Harikela in eastern Bengal. Their domain was comprised of the ancient lands of Harikela, Vanga and Samatala. They were in power for a period of roughly 150 years, from the beginning of the 10th Century A.D.
The Candra empire also encompassed Vanga and Samatala, with Srichandra expanding his domain to include parts of Kamarupa. The capital city of the Candra empire was Vikrampur (modern Munshiganj). The dynasty's military assets were powerful enough for them to withstand attacks by the Pala Empire to the northwest.
Eventually the Candras were dominated by the Varman dynasty, who took over the rule of Harikela. [60a]
The region of the Harikela kingdom in ancient Bengal encompassed much of the eastern region of the Indian Subcontinent. There are numerous references to the kingdom in historical texts as well as archeological artifacts and coins.
Following the Candra's rule of Harikela, the Deva dynasty came to power. Then, in the 17th Century the Mughal Empire absorbed and brought Harikela under the province of Bengal. [60b]
For a time its capital was near Chittagong, before being moved to Munshiganj by the Candras. [60c] Arab traders recognised Harikela (known as Harkand in Arabic) as the coastal regions of Bengal (near Chittagong) in the early period. They included Sylhet[60d] in the later period, reaching as far as the ancient Sundarbans.[60e]
FOOTNOTES:
[60a] Ray, Niharranjan (1994). History of the Bengali People. Calcutta: Orient Longman Ltd. p. 84.
[60b] Ray, Niharranjan (1994). History of the Bengali People. Calcutta: Orient Longman Ltd. p. 84.
[60c] http://www.anythinganywhere.com/info/a2z/azmyanmar.htm
[60d] Chakrabarti, Dilip K. (2001). Ancient Bengal: A Study of the Archaeological Sources. Dhaka: University Press Ltd. p. 25.
[60e] http://www.pu.edu.pk/departments/doh_journal/Current%20Issues/Yousuf%20S...