Middle Kingdoms of India, Part 53
BY: SUN STAFF - 22.4 2021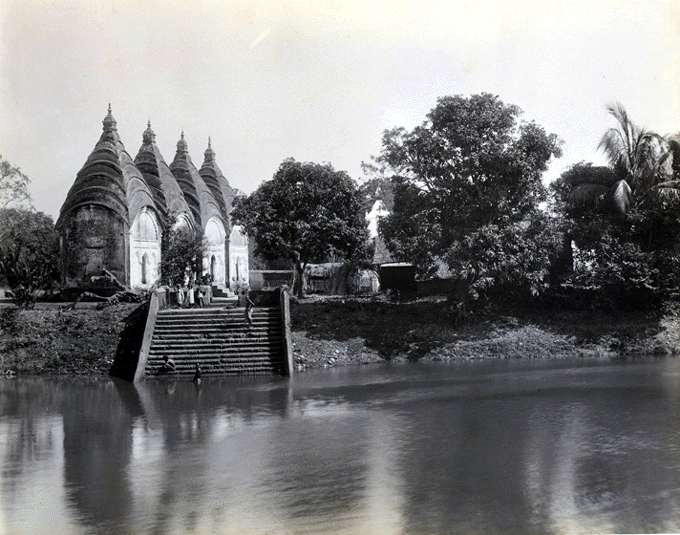 Dhakeshwari Temple - Dhaka, Bangladesh
Built in the 12th Century by Sena Dynasty king, Ballal Sen
Photo c. 1904 by Fritz Kapp
A serial presentation of India's great history, religious movements and temple architecture.
The Senas
A copperplate found in the Adilpur (Edilpur) pargana of Faridpur district in 1838 A.D. was acquired by the Asiatic Society of Bengal, but later went missing from collection. However, an account of the copperplate was published in the Dacca Review and Epigraphic Indica. The copperplate inscription is written in Sanskrit and in Ganda character, and dated 3rd Jyaistha of 1136 Samval, or 1079 A.D.
In the Asiatic Society's proceeding for January 1838, an account of the copperplate states that three villages were given to a Brahman in the third year of Kaesava Sana. The grant was given with the landlord rights, which include the power of punishing theChandrabhandas or Sundarbans, a race that lived in the forest. [60h] The land was granted in the village of Leliya in the Kumaratalaka mandala, which is situated in Shatata-padamavati-visaya.
The copperplate of Kaesava Sana records that King Vallal Sena carried away, from the enemies, the goddesses of fortune on palanquins (Shivaka), which elephant tusk staff supported. It also states that Vallal Sena's son, Lakshman Sena (1179–1205 A.D.), erected pillars of victory and sacrificial posts at Benaras, Allahbad, and Adon Coast of the South Sea.
The copperplate also describes the villages with smooth fields growing excellent paddy, the dancing and music in ancient Bengal, and ladies adorned with blooming flowers. The Edilpur copperplate of Kaesava Sena records that the King made a grant in favor of Nitipathaka Isvaradeva Sarman for the inscae of the subha-varsha.
As previously mentioned, the Sena rulers consolidated the caste system in Bengal. Although Bengal borrowed from the caste system of Mithila, caste was not so strong in Bengal.
The Sena dynasty is also famous for building temples, including the renowned Dhakeshwari Temple in what is now Dhaka, Bangladesh. In Kashmir, the dynasty also likely built a temple, which is ascribed to a Gaureshwara or Ballala Sena.
The Sena rulers were great patrons of literature. During both the Pala and the Sena dynasty periods, major growth in Bengali was witnessed. Some Bengali authors believe that Jayadeva, the famous Sanskrit poet and author of Gita Govinda, was one of the Pancharatnas (five gems) in the court of Lakshman Sen. Dhoyin, himself an eminent court poet of the Sena dynasty, mentions nine gems (ratna) in the court of Lakshmana Sen, [60i] among whom were: Govardhana, Sarana, Jayadeva, Umapati, and Dhoyi/ Dhoyin Kaviraja.
FOOTNOTES:
[60h] Hunter, William Wilson (1875), "A statistical account of Bengal, Volume 1", Google Books, Edinburgh: Murry and Gibbs, retrieved 2009-10-03
[60i] R.C. Majumdar (ed.). The History of Bengal, Vol. I (Hindu Period). Lohanipur