Middle Kingdoms of India, Part 57
BY: SUN STAFF - 30.4 2021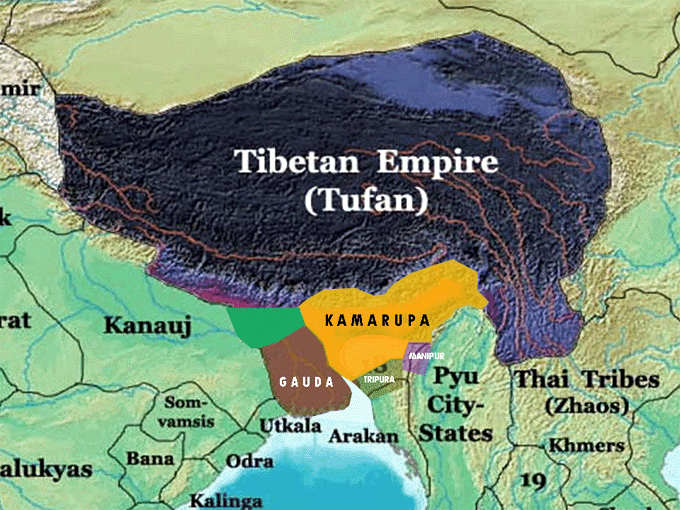 The kingdom of Kamarupa in 7th to 8th Century Bengal and Assam.
A serial presentation of India's great history, religious movements and temple architecture.
Middle Kingdom Dynasties of the Northeast
Today we present the last of the Middle Kingdom empires in northern India to be covered in this series. Following this segment, our series will conclude with a presentation of several important Deccan and South Indian dynasties.
In this case, our focus is on the locale rather than on a dynasty, because here we find four successive dynasties in a narrowly defined ancient region. This final northeastern region was known in ancient times as Kamarupa, and also as Pragjyotisha. It was inhabited by four separate dynasties during the Middle Kingdom period.
'Kamarupa was one of the historical kingdoms of Assam alongside Davaka [60j] that existed from 350 to 1140 A.D. Ruled by three dynasties from their capitals in present-day Guwahati, North Guwahati and Tezpur, at its height it covered the entire Brahmaputra Valley, North Bengal, Bhutan and parts of Bangladesh, and at times portions of West Bengal and Bihar.[60k]
Though the historical kingdom disappeared by the 12th Century and was replaced by smaller political entities, the notion of Kamarupa persisted, and ancient and medieval chroniclers continued to call the region by this name.[60l] Coins of Alauddin Hussain Shah, who invaded the Kamata Kingdom in the late 15th Century, called the region Kamru or Kamrud. The name of this kingdom survives to this day in Kamrup, a present-day district in Assam.
Following is a brief outline of the four dynasties that spanned the Middle Kingdom period in the region of Kamarupa:
The Varman dynasty of Kamarupa
The Varman dynasty was the first historical dynasty of the Kamarupa kingdom, established by Pushyavarman in the 4th Century. The kingdom under the Varman rulers, especially under Kumar Bhaskara Varman, extended up to the Karatoya River in the west and Sadiya in the east, and included the Sylhet division of present day Bangladesh. This dynasty ruled from their capital in the vicinity of present-day Guwahati until the middle of the 7th Century.
The Mlechchha dynasty of Kamarupa
The Mlechchha dynasty succeeded the Varman dynasty in Kamarupa and ruled to the end of the 10th Century. They ruled from their capital in the vicinity of the present-day Tezpur.
The Pala dynasty of Kamarupa
The Pala dynasty of Kamarupa succeeded the Mlechchha dynasty in Kamarupa and ruled till the end of the 12th Century.
The Twipras
The Twipra kingdom and dynasty ruled in the Tripura region.
FOOTNOTES:
[60j] Suresh Kant Sharma, Usha Sharma - 2005,"Discovery of North-East India: Geography, History, Cutlure, ... - Volume 3", Page 248, Davaka (Nowgong) and Kamarupa as separate and submissive friendly kingdoms.
[60k] (Sircar 1990:63–68)
[60l] In the medieval times the region between the Sankosh river and the Barnadi river on the northern bank of the Brahmaputra river was defined as Kamrup (or Koch Hajo in Persian chronicles) (Sarkar 1990:95).