Srirangam Temple - Trichy, Tamil Nadu
By Radha Raman das, Czech Republic - 22.6 2022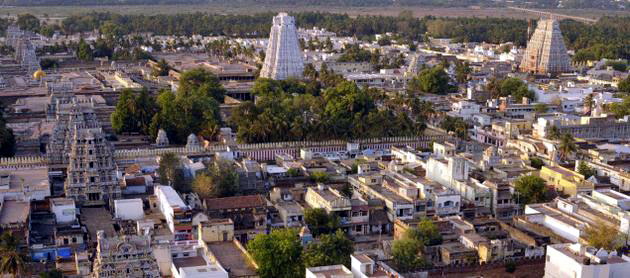 Sri Rangam Temple
Srirangam - Unique and first things first. What comes to mind first when I think of Srirangam? Its geography - its an island! No, its located right at the centre of Tamil Nadu, with no sea in vicinity. But Srirangam is located right in the middle of River Cauvery. The Cauvery on one side of Srirangam is called Cauvery, on the other side its called Kollidam. Another unique factor is the architecture. Usually a temple is situated within a town/village. Here is the only place where the town is located within the temple!!! There are 7 compound walls that surround the temple. The entire town is within the 7 walls, upto the 4th wall. Beyond that its purely the temple. Next unique feature - this temple has the maximum number of Gopurams - 21!!! Next unique feature - one of its 21 gopurams is the second tallest ever! Last but not the least - this is the largest temple in India!!!
Srirangam has an extensive, impressive legend and history. Ramayana is one of the 2 mega epics of India. In Ramayana, after Rama defeated Ravana, he made Ravana's brother Vibhishana as the King of Lanka. Rama was having this little sculpture of Ranganatha (Lord Vishnu) which he gave to Vibhishana before bidding adieu to him. He was instructed never to keep the murti on ground on the way and to keep it down only when he reaches Lanka. On his way to Lanka, while passing through Trichy, he gave the idol to a local sheperd boy for a few moments when he went for some chores. The boy couldn't bear its weight for long and he kept it down. On coming back, Vibhishana could not remove it from the ground. This sculpture got permanently fixated here and this place where Ranganatha resides became Srirangam. Upon prayers, Lord Vishnu appeared before him and said that He's prefer to stay here, however his glance would be towards Lanka, That's why this is a south facing temple.
Historically this temple built in several era by several kingdoms. Periazhwar and Andal have written about this place which means it was there since 8th, 9th C. Inscriptions are here starting with Parantaka Chola and continues with Rajamahendra, Kulothunga etc. Later on Hoysalas, Pandyas (Maravarman Sundara, Jatavarman Sundara etc), played an important role in expanding this temple. All the emperors and kings showered the temple with art, architecture and also wealth. It was indeed so well that the several granite / metal structures of the temple were wrapped in gold foil. However good things did get shattered when Malik Kafur of the Delhi Sultanate Dynasty waged a war on Srirangam during 1311 and looted the place of all its wealth and took the bronze idol of Lord Ranganatha (Azhagiya Manavalan) as well, back to Delhi. However the daughter of Malik Kafur, Surattani fell in love with the beauty of Azhagiya Manavalan. When a group of devadasi women (temple dancers), went to Delhi to his court and entertained him with their dance and as a return gift, asked for Azhagiya Manavalan. It is said that, Princess Surattani too who was in love with Azhagiya Manavalan then, came back to Srirangam with them!!! She was later on called 'Thulikka Nachiyaar' and was celebrated here and she has a separate shrine here as well!!!
Sri Caitanya Mahaprabhu in Sri Rangam
Five hundred one years ago, during the rainy season, the young ascetic Sri Krishna Chaitanya observed his first Chaturmasya Vrata at Srirangam on the banks of the river Kaveri in Tamil Nadu near present-day Tiruchirapally.
During those four months after taking his bath in the Kaveri, Mahaprabhu would every day have darshan of Sri Ranganathji at Srirangam temple. The pomp and grandeur of the temple is comparable to that of Sri Jagannath Temple in Puri.
Venkata Bhatta, a Brahmin devotee of Sri Lakshmi-Narayan specially entreated Sri Gaurahari to stay at his place for the duration of the four months. Mahaprabhu gratefully accepted the invitation.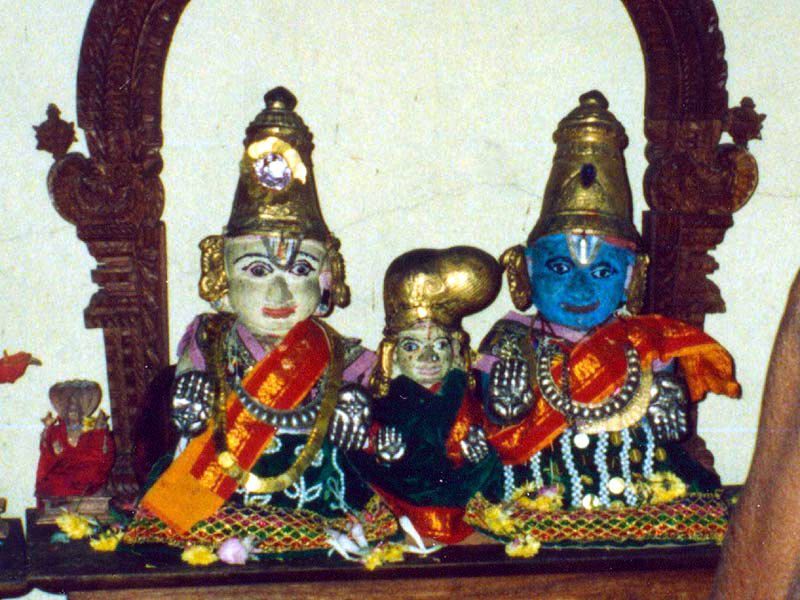 Jaganath deities in Venkata House worship by Lord Caitanya
Vishwambhar flooded the land with love and devotion and introduced Hare Krishna kirtan.
Mahaprabhu plucked three fully blossomed flowers from this holy place. The first Sri Gopal Bhatta, one of the six Goswamis of Vrindavana; the second Sri Prabodhananda Saraswati, the author of Sri Chaitanya Chandramrita and uncle of Sri Gopal Bhatta and third, the divine love of the Alwars.
Gopal, the tender aged son of Venkata Bhatta used to serve Sri Chaintanya daily with great attention and devotion. Gopal wanted to accompany Him when He left Srirangam at the end of his four month stay. Mahaprabhu asked him to serve his parents till they were alive and after that to relinquish the world.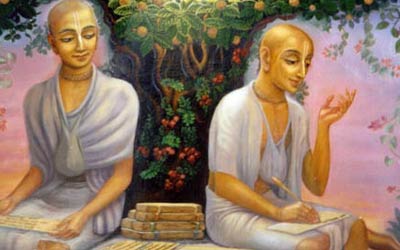 Sri Rupa and Sri Sanatana Goswami
As desired by Sri Rupa and Sanatana, the two most elderly and venerable Goswamis of Vrindavana, he wrote critical appreciation of devotional scriptures. This was accomplished in the light of the teachings received by Sri Rupa and Sanatana from Sriman Mahaprabhu at Prayag and Benaras. They imparted this knowledge to Gopal.
Sri Madhavacharya of the Brahma Madhva school collected the inner meaning of Srimad Bhagavatam from various scriptures. Gopal studied that and wrote the sweet conclusions regarding Devotion, Devotee and God in the light of Sri Chaitanya's teachings.
He presented the analysis to Sri Rupa and Sanatana for their delight. Based on those writings, Srila Jiva Goswami composed his famous Bhagavat Sandarbha which contains (1) Tatva Sandarbha (2) Bhagavat Sandarbha (3) Paramatma Sandarbha (4) Bhakti Sandarbha (5) Krishna Sandarbha and (6) Preeti Sandarbha. Sandarbha means essays.
Gopal Bhatta used to worship Sri Narsingha shaligram shila in his humble cottage. Once a rich merchant presented him with a lot of jewelry to adorn his deities. Gopal Bhatta cherished an intense passion to decorate his shaligram shilas with the ornaments. But how and where would he be able to accomplish this? He experienced an intense longing in his heart. Would his dearest deity not adorn Himself?
To his tearful eyes, one day with divine light, the shaligram shila unfolded itself into the most beautiful Radharaman deity. The intensity of devotion turned the nirakar (formless) into Saakar (with form). Shivering with great joy, Gopal loudly shouted "Gopal Jai Jai Govinda Jai Jai Radharaman Hari Mukunda Jai Jai".
Sri Prabodhananda Saraswati was the uncle of Gopal Bhatta Goswami. He authored Sri Chaitanya Chandramrita in Sanskrit in distant Tamil Nadu. In the first stanza he begins by paying obeisance to God and in the second stanza, he writes: "I pay my obeisance to that Sri Chaitanyadeva by whose grace the nectar of Sri Radha Krishna's love was relished by persons who were always busy with sinful activities; who had never been touched by righteousness; who had never been blessed by saints whose one glance could easily absorb all sins and who had never been to a place of pilgrimage. With great bliss they danced, sang and rolled in the dust experiencing Krishna prema."
Prabodhananda became a disciple of Mahaprabhu. During Prabhu's chaturmasya vrata at his elder brother Venkata Bhatta's house, he had the opportunity to observe Him closely. Prabodhananda has described Sri Gauhari's extraordinary beauty, charm and sweet demeanour. Mahaprabhu's smile was like the light of the full moon which attracted everybody. On his cheeks, his smiles were playful and pleasing. His eyes were full of love and tears would stream in cascades during kirtan and dancing.
In stanza 101 Prabodhananda wrote, "He who is as beautiful as crores of Cupids and delights all as if they were viewing the beauty of millions of moons together. He who is filled with the nectar of affection like millions of mothers; who is a magnanimous donor as great as millions of Kalpatarus (wish-fulfilling trees); whose nature is as profound as the ocean, who unfolded to us millions of varieties of emotions of love which are sweet as nectar, He is none other than Gaurangadeva and all victory to Him."
Mahaprabhu spread this love and devotion of the Alwars to the whole of India and this touched Mirabai also. It is very interesting to note that 800 years after Godamba, Mira also dedicated her songs to Lord Krishna. In 1538, five years after the disappearance of Chaitanya Mahaprabhu, Mirabai came to Vrindavana and met with Rupa Goswami. There she learnt the true spirit of Sri Chaitanya and composed a song where she declared, "Gaur kishan ki dasi Mira…."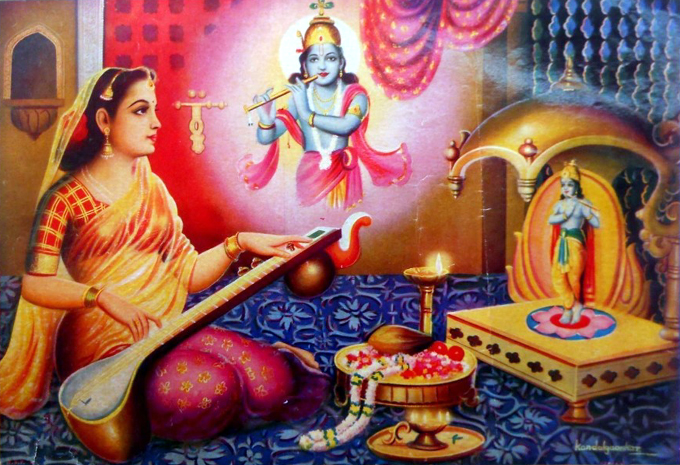 Mirabhai worshipping Lord Krishna
Venkata Bhatt's residence where Mahaprabhu spent four months has been converted into a Math, where 24 hours nama sankirtan is conducted by devotees. The address is Sri Jagannath Math, 176 North Chitra Street, Srirangam.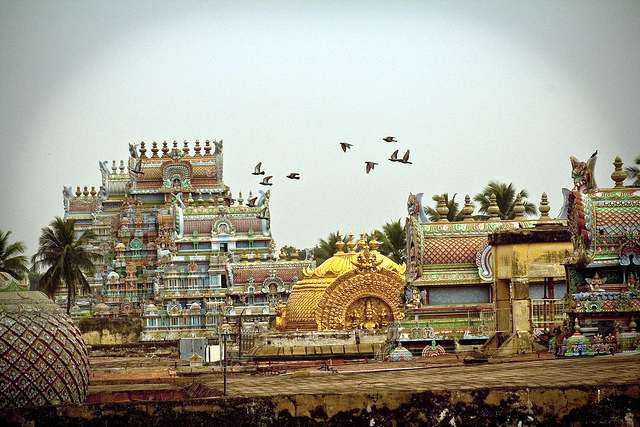 Ranganathaswamy Temple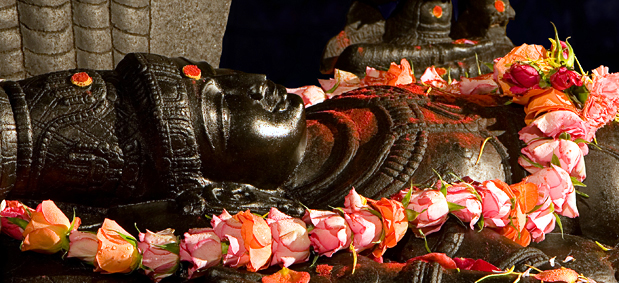 Sri Ranganatha